The Tale of the Unwelcome Guest: Nasruddin Teaches the Town a Lesson; A Circle Round Book (Hardcover)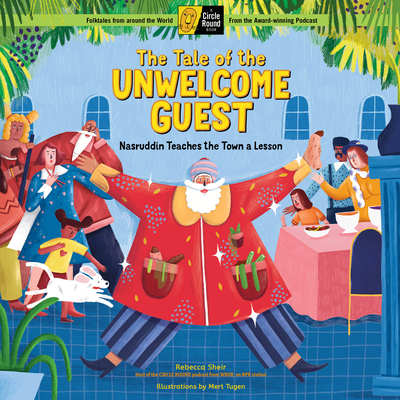 Description
---
The town beside the sea was abuzz with the news. The governor was holding a grand banquet and everyone was invited—everyone! But no one was as excited as Nasruddin. 
On the day of the celebration, Nasruddin works hard in his vineyard picking and squishing grapes. He planned to wear his special long red silk coat, but at the end of the day it's too late for him to go home and change! When he arrives at the banquet in his grape-juice-stained work clothes, he looks different from what the townspeople were expecting. But Nasruddin is a clever fellow—and he figures out a most delicious way to teach the town a lesson about judging people for the way they look.  
The colorful illustrations of Turkish-born artist Mert Tugen complement Circle Round podcast host Rebecca Sheir's original adaptation of this Middle Eastern folktale. Specially designed to be read aloud and shared, the story is accompanied by questions and prompts for conversation, along with creative storytelling activities.
The creators of the award-winning podcast Circle Round, produced by WBUR radio (Boston's NPR station), bring their beloved combination of folktales and storytelling activities to book form in the first branded Circle Round book series. Podcast host, Rebecca Sheir, has uncovered folktales from a broad range of traditions, all exploring timeless values, such as kindness, generosity, acceptance, and more. 
About the Author
---
Rebecca Sheir is the author of the Circle Round books The Tale of the Unwelcome Guest, A Taste of Honey, and The Great Ball Game, and the host, writer, and producer of the Circle Round storytelling podcast. Distributed by WBUR (Boston's NPR station), Circle Round is heard in all 50 states and nearly 200 countries and has been featured in the New York Times, The Washington Post, and TIME. Sheir has also brought thousands of stories to life as a news reporter on public-radio shows like Morning Edition, All Things Considered, Here & Now, The Splendid Table, and Marketplace. She lives in western Massachusetts with her husband and son.   
Praise For…
---
"A vivid lesson about the un-fancy meaning of true friendship, told with Circle Round's inimitable whimsy." —Faith Salie, CBS Sunday Morning, Wait, Wait… Don't Tell Me!

"Rebecca Sheir has a gift for creating magical, evocative worlds for children (and their grown-ups!) The storytelling power in this book will leave you delighted and inspired and entertained!" —Guy Raz, Wow in the World and How I Built This

"Whether picture book or podcast, Rebecca Sheir has a unique way of dusting off traditional folktales, making them feel fresh and modern to a new generation of kids and families. Her exquisite storytelling told with both heart and humor, and the generous offering of extension activities keep these stories resonating through imaginations long after the closing words." —Mindy Thomas, Wow in the World

"I love the respect that Rebecca and the Circle Round team have for kids. They create kind and joyful worlds for families that are always a welcome (and entertaining!) place to visit." —Lee Overtree, Story Pirates

"In a time where storytelling can be considered a lost art, Circle Round is giving the world an opportunity to gather round again. While Circle Round's books will be entertaining for kids, I imagine that the kid in all of us will find these books insightful and enjoyable too!" —Kelly Jenrette, Emmy-nominated actress and co-author of The Adventures of Jimmy the Fly

"This book is a joy to read aloud and explore with children. Fans of all ages will enjoy the vibrant illustrations and charming story, as well as the deeper message of acceptance that we all could do with remembering." —Jane Lindholm, But Why: A Podcast for Curious Kids