We Rise: The Earth Guardians Guide to Building a Movement that Restores the Planet (Hardcover)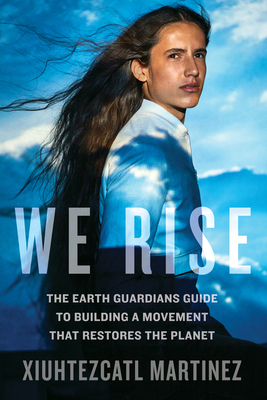 $22.99

Available from our Distributors - Usually arrives in-store in 2-7 days
Description
---
Challenge the status quo, change the face of activism, and confront climate change head on with the ultimate blueprint for taking action.

Xiuhtezcatl Martinez is a 16-year-old climate activist, hip-hop artist, and powerful new voice on the frontlines of a global youth-led movement. He and his group the Earth Guardians believe that today's youth will play an important role in shaping our future. They know that the choices made right now will have a lasting impact on the world of tomorrow, and people—young and old—are asking themselves what they can do to ensure a positive, just, and sustainable future. We Rise tells these stories and addresses the solutions.

Beginning with the empowering story of the Earth Guardians and how Xiuhtezcatl has become a voice for his generation, We Rise explores many aspects of effective activism and provides step-by-step information on how to start and join solution-oriented movements. With conversations between Xiuhtezcatl and well-known activists, revolutionaries, and celebrities, practical advice for living a more sustainable lifestyle, and ideas and tools for building resilient communities, We Rise is an action guide on how to face the biggest problems of today, including climate change, fossil fuel extraction, and industrial agriculture.

If you are interested in creating real and tangible change, We Rise will give you the inspiration and information you need to do your part in making the world a better place and leave you asking, What kind of legacy do I want to leave?

About the Author
---
Xiuhtezcatl Martinez is a 16-year-old indigenous climate activist, hip-hop artist, and a powerful voice on the front lines of a global youth-led environmental movement. At the early age six, Xiuhtezcatl began speaking around the world from the Rio+20 United Nations Summit in Rio de Janeiro, to addressing the General Assembly at the United Nations in New York. He is the youth director of Earth Guardians, an organization of young activists, artists, and musicians from across the globe stepping up as leaders and working together to create positive change in their communities to address climate change and other important issues that will define our future.

He has traveled across the nation and to many parts of world educating his generation about the state of the planet they are inheriting and inspiring them into action to protect the earth. His movement has grown to over 2,000 youth lead Earth Guardian crews globally working on the front lines to combat climate change. His work has been featured on PBS, Showtime, National Geographic, Rolling Stone, Upworthy, The Guardian, Vogue, CNN, MSNBC, HBO, and many more. He lives in Boulder, Colorado.
Praise For…
---
Climate change will impact the livability of our planet for future generations. It is our youth – those whose commitment to the causes of sustainability, conservation and preservation, that will drive the change we so desperately need. Xiuhtezcatl, through his art, is informing and galvanizing a new movement of leaders who are ready to emerge as our best hope for a brighter future. -LEONARDO DICAPRIO

The next generation of leaders make me so proud. Xiuhtezcatl's leadership exemplifies this, his courage, vision and commitment is inspiring. I am so grateful for his work. -WINONA LADUKE

It's young people like Xiuhtezcatl who give me hope that we can overcome the massive problems we face, like money in politics, access to clean water and climate change. Throughout time it's been the people that have changed the course of history. This book offers practical solutions for how every day people can be a part of the most important movement in the history of humanity. -MARK RUFFALO

It is vital that we begin to open our eyes, ears, and hearts to the voices of all generations—from youth to elders, we must understand all perspectives and gain insight from sources and narratives different from our own. Xiuhtezcatl is a leading force in breaking down barriers and building bridges for intergenerational guidance and inspiration. We are all a part of this movement, and this book is a brilliant example of how we can rise together to bring more peace, more justice, and more integral noise to the frontline crisis's we face. We are not alone, there is no right way to expand history, except, to stand together, and demand our voices heard. - SHAILENE WOODLEY

We Rise is a title that means exactly that. The rise Xiuhtezcatl describes and embodies comes from the newest people to arrive on earth. They see so clearly. They express truths that are searingly obvious, yet heartbreakingly opaque to most. Xiuhtezcatl lives and speaks without blinders, ideology, borrowed beliefs, or dictums. He, with millions of other youth, see the world as it is and know it will not persist given its current course. We continue to look for love in all the wrong places, to believe that those in power, the aged hierarchies of political and economic might, will lead. Our love belongs to the purity and heartfelt clarity of Xiuhtezcatl and the rising generation who are a blessing, a shower of goodness and heart that could not come at a more propitious moment in civilization. - PAUL HAWKEN