The Case of the Hook-Billed Kites / The Down East Murders: An F&m Duet (Paperback)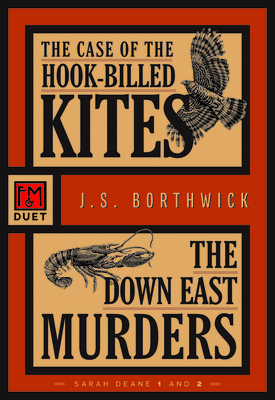 $28.95

Available from our Distributors - Usually arrives in-store in 2-7 days
Description
---
Sarah Deane is an English teacher by profession, but with these first two adventures she discovers that sleuthing--of the strictly amateur variety--may be where her truest passions lie.
The first book takes Sarah, still a grad student at this point, out of her natural New England habitat and into the wilds of Texas, where her maybe-boyfriend is keen on a spot of birdwatching. But birds are not all that she spies through her binoculars, and so the adventures begin. In Down East, Sarah is glad to be back on home ground, but somebody, it appears, is not happy in any way at all, and Sarah is forced (and secretly thrilled) to put her newfound detecting skills to use again.
About the Author
---
J.S. Borthwick (pseudonym of Jean Scott Wood Creighton) was born in Buffalo, NY, and was studying at the State University of New York in Buffalo when WWII broke out; she left school to work as a nurse. After marriage and three children, she went back to college, and ultimately taught English in the Maine high-school system and at Indiana University. Along the way--and over twenty-five years--she wrote thirteen books in the much-loved Sarah Deane series, all of them literate, witty, and rich in twisty plotting. She died in Maine, in 2018.