Daughter of the Dragon: Anna May Wong's Rendezvous with American History (Hardcover)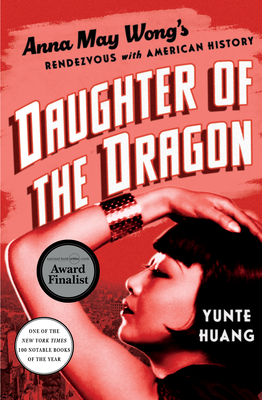 Description
---
A NEW YORK TIMES NOTABLE BOOK OF 2023

New York Times • 10 Best California Books of 2023

Best Books of 2023: Smithsonian, BookRiot

Best Books of August 2023: New York Times Book Review, The Atlantic, Christian Science Monitor, InsideHook, BookRiot, WNET AllArts, Arlington Magazine



A trenchant reclamation of the Chinese American movie star, whose battles against cinematic exploitation and endemic racism are set against the currents of twentieth-century history.
Born into the steam and starch of a Chinese laundry, Anna May Wong (1905–1961) emerged from turn-of-the-century Los Angeles to become Old Hollywood's most famous Chinese American actress, a screen siren who captivated global audiences and signed her publicity photos—with a touch of defiance—"Orientally yours." Now, more than a century after her birth, Yunte Huang narrates Wong's tragic life story, retracing her journey from Chinatown to silent-era Hollywood, and from Weimar Berlin to decadent, prewar Shanghai, and capturing American television in its infancy. As Huang shows, Wong's rendezvous with history features a remarkable parade of characters, including a smitten Walter Benjamin and (an equally smitten) Marlene Dietrich. Challenging the parodically racist perceptions of Wong as a "Dragon Lady," "Madame Butterfly," or "China Doll," Huang's biography becomes a truly resonant work of history that reflects the raging anti-Chinese xenophobia, unabashed sexism, and ageism toward women that defined both Hollywood and America in Wong's all-too-brief fifty-six years on earth.
About the Author
---
Yunte Huang, a Guggenheim Fellow, has taught at Harvard and the University of California, Santa Barbara, where he is a Distinguished Professor of English. The author of the Edgar Award–winning biography Charlie Chan and Inseparable, both NBCC finalists, Huang speaks frequently about American popular culture.
Praise For…
---
With Daughter of the Dragon, Huang is offering something different . . . a form of reclamation and subversion. Huang is a wry and generous storyteller; the Anna May he evokes stepped out from the limited roles she was relegated to and turned to writing as a way of showcasing her curiosity and wit.

— Jennifer Szalai - New York Times

Daughter of The Dragon soars when Huang resists treating Wong as a hapless victim of American history and digs deeper to reveal the shrewd, resilient soul beneath. During her lifetime, Wong's stardom was, for reasons beyond her control, eclipsed by that of her white peers. Thanks in part to scholars like Huang, her legacy won't suffer the same fate.

— Mayukh Sen - The New Yorker

[A]n incisive guide to the tangle of race, politics, and business that Anna May Wong encountered during her rise to fame . . . Daughter of the Dragon offers a lively tour through Wong's world and filmography, and the film stills and portraits included throughout are a particular pleasure. Mr. Huang turns the spotlight back onto an important but largely forgotten film icon—one who shone brightly despite the bitter racial bias she faced throughout her long career.

— Julia Flynn Siler - Wall Street Journal

Deeply researched.... [Huang] presents a fulsome panorama of creative Berlin... [and his] treatment of 1920s London, Wong's next stop, is equally detailed... Daughter of the Dragon... [has] come along to give Wong her due.

— Celia McGee - AirMail

Yunte Huang's superb biography of Hollywood's first Chinese American movie star . . . doubles as a reckoning with the country's attitudes about Asian people in Wong's day . . . tremendously elucidating and moving.
— Nell Beram, Shelf Awareness, starred review

Daughter of the Dragon gives us a sense of how difficult it was for Wong to operate amid the legal, cultural, political and social constraints that restricted the roles she could play in the movies and the choices she could make in her life. Yet Huang also lets us watch Anna May transcend those limits, sending witty letters to friends, welcoming reporters, posing for photographers and campaigning for war relief in China, all the while creating the character that still demands our attention.

— Ann Fabian - National Book Review

Exhaustive . . . Huang uses popular, easily accessible prose, mixed with a professor's use of lengthy quotes from revealing sources and digressions into the influences of the day, to illuminate the main facts of the cinema idol's real-life exploits.
— John Krich - Nikkei Asia Review

A vital account of the life of Anna May (née Liu Tsong) Wong (1905–1961), the first Chinese American movie star . . . Huang's sympathetic treatment brings out the nuances of Wong's story, highlighting how she by turns acceded to and bristled against the stereotypes Hollywood asked her to play . . . It's a fascinating—and long overdue—close-up of a Hollywood trailblazer.
— Publishers Weekly, starred review

While Wong's life has recently been explored in historical fiction . . . most readers will find her real story even more engaging. Huang has created a page-turner nonfiction book with this biography by fleshing out the world in which Wong lived. Huang's lively, surprising, and all-encompassing biography of Anna May Wong should be on everyone's summer reading list.
— Library Journal, starred review

Daughter of the Dragon capably tracks Wong's life and career, creating a tender, fair portrait of an important performer . . . he presents a concise yet rich history of Asian American culture and politics at the turn of the century . . . Huang illustrates details about Wong with passion and fervor, clearly delineating her struggles and achievements. When Wong succeeds, readers will rejoice, and when her circumstances limit her, readers will feel her sorrow.

— Kirkus Reviews

In a deeply researched and far-reaching biography, professor and award-winning biographer Huang positions Wong's career achievements in America and abroad against the geopolitical challenges of the 1930s . . . The result is a thorough, multilayered history of the too brief yet impactful life of a pioneering Chinese American woman artist facing racism and sexism in tumultuous times."
— Carol Haggas - Booklist