Disaster Preparedness NYC: An Essential Guide to Communication, First Aid, Evacuation, Power, Water, Food, and More before and after the Worst Happens (Paperback)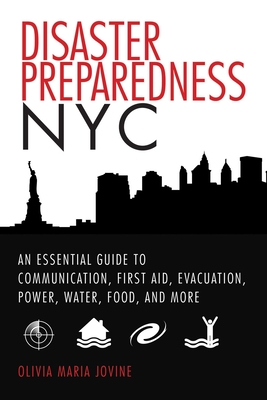 Likely Out of Print, but possibly available from the Publisher. Call for more info
Description
---
If you live in New York City, you know this great city has seen and recovered from many disasters of every scale. But if the next Hurricane Sandy, 9/11, blizzard, power outage, fire, or heat wave hits your borough, would you be ready? With Disaster Preparedness NYC, learn what it takes to be prepared and react to disaster.

This book is the go-to guide for emergency preparedness in New York City, from before (planning and packing and practicing) to during (making sure you have all the resources you need to survive for disasters that can last for days, and that you can communicate with those included in your emergency plan) to after. Find out how New York will respond to disaster, from the NYPD's managing of traffic to Hunts Point—which, few know, is one of the world's largest food distribution centers and a crucial part of long-term disaster survival in the tristate area.

Included are checklists for home emergency kits and "go bags" when you seek shelter outside your home: first aid, important documents, medications, food and water, and more. But disaster preparedness isn't just about what to pack. The best emergency planning is about people. If you're responsible for children, the sick, the elderly, the disabled, or pets, your emergency plan needs to be tailored to factor in each individual's limitations and special considerations, and Disaster Preparedness NYC covers preparing everyone you care about for disaster situations.

You're probably familiar with what to do in a fire, flood, or power outage in your own home, but can you say the same if disaster hits when you're anywhere else—on the subway, on the sidewalk, or at the office? No matter what the emergency or where you are when it occurs, be prepared with Disaster Preparedness NYC. Appendixes include forms that summarize important medical and legal information, kid-friendly worksheets, and neighborhood maps of emergency information such as evacuation routes, flood zones, major supply stores, and more.
About the Author
---
Olivia Maria Jovine is an urbanite and avid survivalist. When she isn't planning for disaster situations, she plans cities as a student pursuing her master's in urban planning at Columbia University's Graduate School of Architecture, Planning, and Preservation in New York City.

Vicki Ford, former town councilwoman of Eastchester, New York, initiated the first Citizen Corps in New York State. Vicki ran the Eastchester Citizen Corps for ten years, where she provided education and management and participated in trainings and exercises.