Rumi: A New Translation of Selected Poems (Paperback)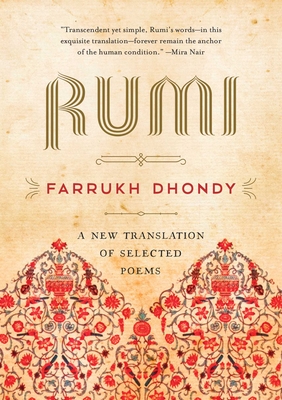 Description
---
"Transcendent yet simple, Rumi's words—in this exquisite translation by Farrukh Dhondy—forever remain the anchor of the human condition."—Mira Nair, Filmmaker

A new translation of the Sufi mystic's verse, hailed as "authentic" and "exquisite."

Championed by icons of American pop culture such as Madonna, Donna Karan, and Deepak Chopra, Rumi has won such a following in this country that he was once proclaimed our bestselling poet. But translations that have popularized the work of this thirteenth-century Sufi mystic have also strayed from its essence.

In this fresh translation from the Persian, Farrukh Dhondy seeks to recover both the lyrical beauty and the spiritual essence of the original verse. In poems of love and devotion, rapture and suffering, loss and yearning for oneness, Dhondy has rediscovered the Islamic mystic of spiritual awakening whose quest is the key to his universal appeal. Here is at once a great poet of love, both human and divine, and the authentic voice of a moderate Islam—a voice that can resonate in today's turbulent, fundamentalist times.
About the Author
---
Rumi was born in 1207 in Vakhsh (now Tajikistan) to a family of learned Persian Muslim theologians. He founded the Malawi Sufi order, a leading mystical brotherhood of Islam. Rumi's masterpiece, the Mathnawi, has been called the Koran in Persian. He died in 1273 in Konya in present-day Turkey.

Farrukh Dhondy is a London-based writer, screenwriter, playwright, and activist of Indian Parsi descent. He has published novels and short stories, written screenplays for Bollywood, and been a commissioning editor at TV 4 in the UK. In 2012, he celebrated the opening of his opera based on Rudyard Kipling's Just So Stories.
Praise For…
---
"Transcendent yet simple, Rumi's words—in this exquisite translation by Farrukh Dhondy—forever remain the anchor of the human condition." —Mira Nair

"Farrukh Dhondy conveys to us Rumi as a universal poet and thinker and captures in verse the spirit of Rumi's philosophy in an authentic fashion often missed by some of the modern interpreters of Rumi. His introduction gives us an overview of the essential message of Sufism and its relevance to the modern world." —Mahmood Jamal, author of Islamic Mystical Poetry

"East and west, readers are passionate about Rumi. . . . Dhondy uses the patternings of pre-modernist English to reflect Rumi's antiquity and traditional poetics, as well as his lively and often humorous take on life. Like all translations of Rumi, this is a labour of love." —Ruth Padel, author of The Mara Crossing

"Transcendent yet simple, Rumi's words—in this exquisite translation by Farrukh Dhondy—forever remain the anchor of the human condition." —Mira Nair

"Farrukh Dhondy conveys to us Rumi as a universal poet and thinker and captures in verse the spirit of Rumi's philosophy in an authentic fashion often missed by some of the modern interpreters of Rumi. His introduction gives us an overview of the essential message of Sufism and its relevance to the modern world." —Mahmood Jamal, author of Islamic Mystical Poetry

"East and west, readers are passionate about Rumi. . . . Dhondy uses the patternings of pre-modernist English to reflect Rumi's antiquity and traditional poetics, as well as his lively and often humorous take on life. Like all translations of Rumi, this is a labour of love." —Ruth Padel, author of The Mara Crossing