Polar Exposure: An All-Women's Expedition to the North Pole (Hardcover)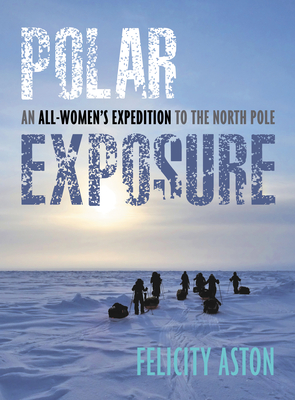 Description
---
This inspiring account of a diverse all-women's expedition to the North Pole reveals the highs and lows of record-breaking, modern-day exploration.

"A wonderful collaboration both on the Arctic ice and onto the page. Each team members voice arises to offer a view beyond the physical giving us the essence of a unique adventure." Ann Bancroft, first woman to reach the North Pole and coauthor of No Horizon Is So Far: Two Women and Their Historic Journey across Antarctica

When British Explorer Felicity Aston put out an open call for women with little to no experience willing to brave the elements on an expedition to the North Pole, she was stunned to have over 1000 applicants. After narrowing it down to ten women from ten different countries—some of whom had never seen snow before—the team spent the next two years training for this unique opportunity.

Each member of the team tells part of the story in her own words, chronicling their grueling preparation in Iceland and Oman, the anticipation for the journey, and the terrifying conditions of the Arctic. Set against a backdrop of Arctic pack ice that is thinner, newer, and less stable than ever before due to climate change—the team face the realities of hungry polar bears, extreme temperatures, and the possibility that anything and everything could go wrong at any moment.

Aston beautifully weaves each woman's account into the greater expedition narrative, reminding readers of the teamwork needed to complete such a feat. Over 60 stunning photographs illustrate the journey, illuminating the breathtaking landscape along with the joy, pain, and determination of these ten women.

Polar Exposure is a powerful celebration of the perseverance of women in science, sports, and exploration that sheds light on all that it takes to reach the top of the world.
About the Author
---
British polar explorer Felicity Aston MBE is an author, speaker, and research scientist. In 2012 she became the first woman to ski alone across Antarctica, a journey of 1744 kilometers that took 59 days to complete and gave her a place in the Guinness Book of World Records.
Praise For…
---
♦ Polar explorer Aston (Life Lessons) recounts in this vivid account the 2018 Women's Euro-Arabian North Pole Expedition, a trek she did with 10 women from different countries. Aston elaborates on how she selected and trained her team, some of whom had never skied or experienced intense cold before: her goal, she writes, was to "develop a better understanding of the values and perspectives of women from different cultures." What sets the book apart is the enriching firsthand accounts from the team members interspersed throughout: "I am an introvert," writes Olga, a mountaineer from Russia, "so the thought of living so closely with ten women from different countries on this expedition made me anxious." Their accounts cover the life-threatening weather the team faced ("A storm like this can destroy confidence just as it destroys tents," writes Steph from Cyprus), treacherous turns of fate ("I smiled as I approached the ground, thinking that if this was it, then there would be no problems at all.... Ten minutes later my eyelashes were covered in ice and my eyelids had frozen together. I had my first moment of panic," writes Nataša, a Slovenian journalist), and finally the joy of arriving at the Pole. The result is a page-turning tale of adventure.

— Publishers Weekly, Starred Review