Just Dope: A Leading Attorney's Personal Journey Inside the War on Drugs (Paperback)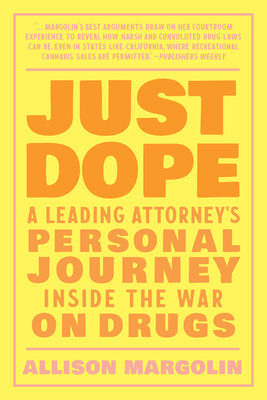 Description
---
For readers of Dopesick and In the Realm of Hungry Ghosts, a celebrated cannabis attorney's personal look at the War on Drugs and what comes next for the drug legalization movement

Getting high is something most of us do, and in many cases do safely--yet drugs remain a singular public enemy. In a ranging blend of memoir, pop culture, policy critique, and social analysis, LA-based criminal defense attorney Allison Margolin explores why--and what we can do about it.

Informed by Margolin's experiences as a drug user, advocate, and the daughter of California's most renowned (and infamous) cannabis attorney, Just Dope offers a look at where our current drug policy fails. It exposes the true history of drug prohibition in the United States, sharing why it started, how it evolved, and where it stands now. And it looks unflinchingly at the false dichotomy between "good" drugs and "bad" drugs and Margolin's experience with programs like D.A.R.E that misguidedly ask you to "Just Say No."

For readers of All Day is a Long Time and In the Realm of Hungry Ghosts, Just Dope is an experiential tour-de-force of personal essay and whip-smart policy critique—and a vital call to knowledge and action.
About the Author
---
ALLISON MARGOLIN is a Los Angeles-based criminal defense attorney and one of the nation's leading experts in cannabis licensing and the law. She has degrees from Columbia and Harvard Law and has been named a SuperLawyer Rising Star 7 times. Margolin has contributed to articles in The New Yorker, The Wall Street Journal, The Los Angeles Times, and LA Weekly. In 2006, she made headlines by advertising herself as "LA's Dopest Attorney" on billboards throughout the city and has run a law practice for the past 18 years.
Praise For…
---
" . . . Margolin's best arguments draw on her courtroom experience to reveal how harsh and convoluted drug laws can be, even in states like California, where recreational cannabis sales are permitted."
—Publishers Weekly

"Allison's book could become a call to action for many.... As someone who has often been called the godfather of the Progressive Prosecutors' Movement in this country, I am excited for Allison's book to be published. Just Dope has the potential to become one of those once-in-a-generation books, shaking up popular beliefs about the role of drugs in American culture and tipping the scales towards a more humane and thoughtful approach in the future."
—George Gascón, currently elected district attorney of LA, former two-term district attorney of San Francisco, and former chief of police of San Francisco

"Allison is a true marijuana lover from the heart—it's in her bloodline. She knows nothing else and is always trying to help. If you really wanna know about marijuana laws, you must read this book."
—"Freeway" Rick Ross

"With Just Dope, Allison Margolin uses a fluid writing style that seamlessly weaves together disparate threads of her own life and sense of justice with courtroom drama, history, science, and a blistering critique of the Drug War. She chronicles her very personal odyssey from hippie child to D.A.R.E. student to drug user to Dopest Defense Attorney and offers frank appraisals of political and prosecutorial policies along the way.... Masterful and well written, I highly recommend this book."
—Chris Conrad, cannabis author, activist, and court-qualified expert witness

"Allison Margolin has addressed America's drug abuse crisis in a uniquely honest and compelling autobiography."
—Eugene Schoenfeld, MD, author of the 1960s–70s newspaper column "Dr. Hip" and Dr. Hip's Natural Food and Unnatural Acts

" With Just Dope, Margolin uses a fluid writing style that seamlessly weaves together disparate threads of her own life and sense of justice with courtroom drama, history, science and a blistering critique of the Drug War."
—The Leaf

"Masterful, expansive, well-written and fun to read, we highly recommend this book."
—L.A. Cannabis News

"[Margolin] presents a footnoted argument that decriminalizing drug possession could broadly benefit U.S. society by justly treating drug use as an issue of health, not crime."
—Library Journal