The Great American Burger Book: How to Make Authentic Regional Hamburgers at Home (Hardcover)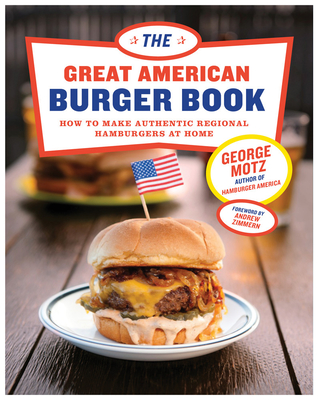 $27.50

Available from our Distributors - Usually arrives in-store in 2-7 days
Description
---
"What a way to travel through America! George Motz takes us one burger at a time." —Bobby Flay, host, Food Network"In the land of the hamburger, George Motz is king, an enthusiastic, knowledgeable, and passionate king." —Chicago Tribune
Buckle up, burger lovers. You're in for a ride to hamburger heaven!
The Great American Burger Book
showcases a wide range of regional hamburger styles and cooking methods. Author and burger expert George Motz covers traditional grilling techniques as well as how to smoke, steam, poach, and deep-fry burgers based on signature recipes from around the country.
Regional burgers include:
The tortilla burger of New Mexico
The classic New York–style pub burger
The fried-onion burger of Oklahoma
Hawaii's Loco Moco
Iowa's Loose Meat Sandwich
The Cuban Frita from Florida
Minnesota's Jucy Lucy
The Pastrami Burger from Utah
And many, many more!
Motz writes in his introduction, "Across America, burger diversity abounds. The unique flavors and textures of our best burgers run deep, and they begin with the regional methods by which burgers are cooked, well before toppings (both traditional and far-out) are introduced. In my many years of research around the country I have discovered that burgers can be smoked, stuffed, smashed, steamed, deep-fried, grilled, breaded, and poached. . . . They are mouthwatering variations on a theme."
Motz provides expert instruction, tantalizing recipes, and vibrant color photography to help you create unique versions on America's favorite dish in your own home. This is the perfect gift for the burger lover in your life—or for yourself!
About the Author
---
George Motz is a well-traveled Emmy Award–winning freelance filmmaker, author, and photographer. He has also been called the "foremost authority on hamburgers" by the New York Times, and "America's biggest burger name" by Eater LA. In the spring of 2004, Motz completed Hamburger America, which was nominated in 2006 for a James Beard Award, and was recognized in 2011 by the US National Archives as an integral part of American food history. The film's success led to a state-by-state guide to hamburgers, also titled Hamburger America: A State-by-State Guide to Great Burger Joints. And in 2016, Abrams released his first cookbook, The Great American Burger Book. Motz can be seen on his show, Burger Scholar Sessions, on Complex Media's First We Feast, heading into its sixth season. He lives in Brooklyn.
Praise For…
---
For true burger obsessives, there is no other cookbook.
— Paula Forbes, Epicurious.com
"What a way to travel through America! George Motz takes us one burger at a time. I'll be locked on the Green Chile Cheeseburger page for my lesson from New Mexico."
— Bobby Flay
"In the land of the hamburger, George Motz is king, an enthusiastic, knowledgeable, and passionate king who brings us not only the meat but heart and soul."
— Rick Kogan, Chicago Tribune
"This book does everything a great cookbook should: it tells the story of a food, places it regionally, and provides techniques, recipes, and photography to help you re-create in your kitchen what the author has created in your imagination. Motz travels the country to discover an astonishing variety of burgers (poached?! who'd have thought?) and gives us a proud tribute to one of the most lovingly embraced foods in America."
— Michael Ruhlman, best-selling author of Soul of a Chef and Ruhlman's Twenty: A Culinary Manifesto