Ecology, Ethics, and Interdependence: The Dalai Lama in Conversation with Leading Thinkers on Climate Change (Paperback)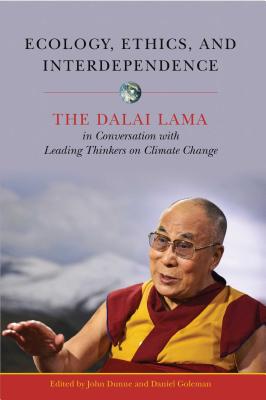 $18.95
Available from our Distributors - Usually arrives in-store in 2-7 days
Description
---
Powerful conversations between His Holiness the Dalai Lama and leading scientists on the most pressing issue of our time.
Engage with leading scientists, academics, ethicists, and activists, as well as His Holiness the Dalai Lama and His Holiness the Karmapa, who gathered in Dharamsala, India, for the twenty-third Mind and Life conference to discuss arguably the most urgent questions facing humanity today:
What is happening to our planet?
What can we do about it?
How do we balance the concerns of people against the rights of animals and against the needs of an ecosystem?
What is the most skillful way to enact change?
And how do we fight on, even when our efforts seem to bear no fruit?
Inspiring, edifying, and transformative, this should be required reading for any citizen of the world.
About the Author
---
John D. Dunne holds the Distinguished Chair in Contemplative Humanities, a recently endowed position in the Center for Healthy Minds and the Department of Asian Languages and Cultures, at the University of Wisconsin–Madison. He attended Amherst College and in 1999 received his PhD in Sanskrit and Tibetan studies from Harvard University. Before being appointed in his current position, John was a professor at Emory University, where he helped to establish the Collaborative for Contemplative Studies (now the Center for Contemplative Science and Compassion-Based Ethics). He also previously held research positions at the University of Lausanne, Switzerland, and the Central University of Higher Tibetan Studies in Sarnath, India. He is a fellow and former member of the Board of the Mind and Life Institute. His academic work includes teaching and advising for the Rangjung Yeshe Institute in Kathmandu, Nepal. He frequently serves as a translator for Tibetan scholars, and as a consultant, he is involved in various scientific studies of contemplative practices.

Daniel Goleman is a psychologist and science journalist, and a cofounder of the Collaborative for Academic, Social, and Emotional Learning. Dan attended Amherst College and received his doctorate in psychology from Harvard University, where he later was a visiting lecturer. A science journalist, he covered the brain and behavioral sciences for the New York Times for many years. Dan is the author of more than a dozen books, including the international bestsellers Emotional Intelligence, Working with Emotional Intelligence, and Social Intelligence, and he is the coauthor of Primal Leadership. He has moderated several Mind and Life meetings with the Dalai Lama and was editor of the proceedings of two: Healing Emotions: Dialogues with the Dalai Lama (Shambhala, 1996) and Destructive Emotions: How Can We Overcome Them? (Bantam Books, 2003). To honor the eightieth birthday of the Dalai Lama, Dan wrote A Force for Good: The Dalai Lamas's Vision for Our World (Bantam Books, 2015).
Praise For…
---
"This wonderful book, describing an extraordinary gathering, explores three key ideas: the nature of climate, and humans actions that change it; the nature of our minds, which give rise to these actions; and the individual and collective behaviors that could shift our actions from destructive to regenerative. Recognizing the magnificent interdependence of life, and the cascading multiplier effect of our actions, calls on us to recognize the merit of acting for the benefit of all of life. A deep bow of thanks to His Holiness the Dalai Lama, Mind and Life, and the meeting participants for exploring the way."
— Jonathan F. P. Rose, cofounder of the Garrison Institute, author of The Well-Tempered City: What Modern Science, Ancient Civilizations, and Human Nature Teach us About the Future of Urban Life

"We need this one. Here is a book that looks at the global ecological crisis from many, many angles, each one bringing the challenge—and what to do about it—more and more into focus. This is an important book."
— Jeff Bridges, actor and environmental activist

"Imagine an accessible and fascinating conversation among leading thinkers on how to understand our planet's health—and how to bring a compassionate and effective response to the challenges we all face as living beings on earth. Reading this fabulous account of this scientific gathering is both enlightening and inspiring; it weaves insight and action into a deeper understanding of what we need to do at this important moment in our shared progress forward. This work should be embraced by anyone interested in how to become informed and energized to help our world."
— Daniel J. Siegel, M.D., bestselling author, Mind: A Journey to the Heart of Being Human; Aware: The Science and Practice of Presence

"John Dunne and Daniel Goleman have assembled a set of refreshingly new and vibrant conversations between scientists, ethicists, and spiritual leaders on core climate change issues. The reader feels invited to a Jeffersonian dinner-table conversation, engaging with approachable, knowledgeable experts who elevate the human, ethical, social, and personal dimensions that are often lost in more technical works. His Holiness the Dalai Lama regularly punctuates the conversation with penetrating yet disarmingly simple observations that draw focus to the real human and spiritual dimensions of a world in transition."


— Peter B. de Menocal, dean of science, Columbia University