The Doomed City (Rediscovered Classics #25) (Paperback)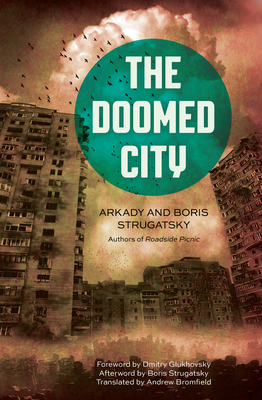 $18.99

Backordered to the Publisher - May not be immediately available! Contact us for more information.
Other Books in Series
This is book number 25 in the Rediscovered Classics series.
Description
---
The magnum opus of Russia's greatest science fiction novelists translated into English for the first time
 
Arkady and Boris Strugatsky are widely considered the greatest of Russian science fiction masters, and their most famous work, Roadside Picnic, has enjoyed great popularity worldwide. Yet the novel they worked hardest on, that was their own favorite, and that readers worldwide have acclaimed as their magnum opus, has never before been published in English. The Doomed City was so politically risky that the Strugatsky brothers kept its existence a complete secret even from their closest friends for sixteen years after its completion in 1972. It was only published in Russia during perestroika in the late 1980s, the last of their works to see publication. It was translated into a host of European languages, and now appears in English in a major new effort by acclaimed translator Andrew Bromfield.

The Doomed City is set in an experimental city whose sun gets switched on in the morning and switched off at night, bordered by an abyss on one side and an impossibly high wall on the other. Its inhabitants are people who were plucked from twentieth‑century history at various times and places and left to govern themselves, advised by Mentors whose purpose seems inscrutable. Andrei Voronin, a young astronomer plucked from Leningrad in the 1950s, is a die-hard believer in the Experiment, even though his first job in the city is as a garbage collector. And as increasinbly nightmarish scenarios begin to affect the city, he rises through the political hierarchy, with devastating effect. Boris Strugatsky wrote that the task of writing The Doomed City "was genuinely delightful and fascinating work." Readers will doubtless say the same of the experience of reading it.
About the Author
---
Arkady and Boris Strugatsky were famous and popular Russian writers of science fiction, with more than twenty-five novels and novellas to their names, including The Doomed City, The Inhabited Island, and Roadside Picnic. Their books have been widely translated and made into a number of films. Andrew Bromfield has translated into English works by Victor Pelevin, Boris Akunin, Sergei Lukyanenko, Mikhail Bulgakov, Daniil Kharms, Leo Tolstoy, and the Strugatsky brothers. Dmitry Glukhovsky is the author of Metro 2033. He lives in Moscow.
Praise For…
---
"This publication of The Doomed City reveals the Strugatsky's great lost masterwork, an allegorical nightmare metropolis fit for the special atlas that gives home to Kafka's Castle,  Charles Finney's The Unholy City, Rex Warner's Aerodrome, and a very select handful of others." -- Jonathan Lethem