Man of Fire: William Tecumseh Sherman in the Civil War (Emerging Civil War) (Paperback)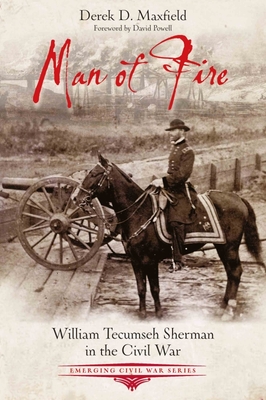 $16.95

Available from our Distributors - Usually arrives in-store in 2-7 days
Description
---
He has been accused of "studied and ingenious cruelty." By turns, he has been called a savior and a barbarian, a hero and a villain, a genius and a madman. But whatever you call William Tecumseh Sherman, you must admit he is utterly fascinating.

Sherman spent a lifetime in search of who he was, striving to find a place and a calling. Informally adopted by the Ewing family of Lancaster, Ohio, when his own father died when he was just nine, the young redhead lived in a spacious mansion just up the hill from his mother. Later, as a young man, he would marry his adopted sister, Ellen.

After attending West Point, the intrepid Ohioan found that being a soldier suited him. Yet he always seemed to miss his opportunity. The second Seminole War was in its closing days before he saw action. When the Mexican-American War broke out, he anticipated the opportunity to earn military glory only to be posted to Pittsburgh on recruiting duty. Transferred to California, he arrived too late after surviving two shipwrecks, then ended up on administrative duties.

Hounded by his family to leave the military, Sherman tried banking and practicing law. Finally, he became superintendent of a new military academy in Louisiana and thought he had found his place--until civil war intervened.

After leading his troops at the battle of Bull Run, the anxious brigadier general was sent West to Kentucky. Apprehensive over the situation in the Blue Grass State, suffering from stress, insomnia, and anxiety, Sherman begged to be relieved. Sent home to recover, the newspapers announced he was insane. Colleagues concluded he was "gone in the head."

Instead, like a phoenix, he rose from the ashes to become a hero of the republic. Forging an identity in the fire of war, the unconventional general kindled a friendship with Ulysses S. Grant and proved to everyone at Shiloh, Vicksburg, Chattanooga, Georgia, and in the Carolinas that while he was unorthodox, he was also brilliant and creative. More than that, he was eminently successful and played an important role in the Union's victory.

Man of Fire: William Tecumseh Sherman in the Civil War tells the story of a man who found himself in war--and that, in turn, secured him a place in history. Condemned for his barbarousness or hailed for his heroics, the life of this peculiar general is nonetheless compelling--and thoroughly American.