The Cleveland Heights LGBTQ Sci-Fi and Fantasy Role Playing Club (Paperback)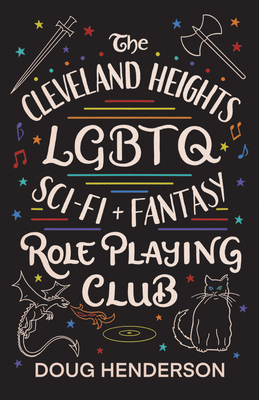 Description
---
On Thursday nights, the players assemble in the back of Readmore Comix and Games. Celeste is the dungeon master; Valerie, who works at the store, was roped in by default; Mooneyham, the banker, likes to argue; and Ben, sensitive, unemployed, and living at home, is still recovering from an unrequited love. In the real world they go about their days falling in love, coming out at work, and dealing with their family lives all with varying degrees of success. But in the world of their fantasy game, they are heroes and wizards fighting to stop an evil cult from waking a sleeping god.
But then a sexy new guy, Albert, joins the club, Ben's character is killed, and Mooneyham's boyfriend is accosted on the street. The connections and parallels between the real world and the fantasy one become stronger and more important than ever as Ben struggles to bring his character back to life and win Albert's affection, and the group unites to organize a protest at a neighborhood bar. All the while the slighted and competing vampire role playing club, working secretly in the shadows, begins to make its move.
About the Author
---
Doug Henderson won the 2019 PEN/Robert J. Dau Short Story Prize for Emerging Writers and made his short story debut in the Iowa Review. Henderson lives in San Francisco, California.
Praise For…
---
"You've met guys like Ben: living in his parents' basement, selling vintage toys on eBay, and still hoping for his first real boyfriend. When his weekly
Dungeons & Dragon
game gets a new member—Albert, a cute gamer who's just a little too flirty—Ben is launched on a romantic odyssey, whether he's ready or not.
The Cleveland Heights LGBTQ Sci-Fi and Fantasy Role Playing Club
, Doug Henderson's comedic debut, brings to life two vivid worlds: the hipster neighborhood of Coventry Street in Cleveland, with its comic book shops, record stores, and all-night diners, and the invented landscapes where Ben and his nerdy friends let their imaginations run wild through cities of the dead, floating islands, and the queerest pub in Middle Earth. Henderson has created something special—part
Hobbit
and part
Breakfast Club—
a bittersweet story of love and friendship that tackles big subjects like homophobia, social anxiety, and coming out with a touch of magic. Even if you can't tell neutral-chaotic from lawful-good, or a paladin from a druid, you'll be swept up with Ben and his lovable band of outsiders—where the game becomes a map for real life and real life sets the course for the game."—K. M. Soehnlein,
The World of Normal Boys
"It turns out that you don't have to be a gay gamer nerd from Ohio to love Doug Henderson's novel The Cleveland Heights LGBTQ Sci-Fi and Fantasy Role Playing Club. You just need to be someone who likes to laugh, or likes to watch people awkwardly attempt love and friendship, or likes to read a sweet, funny story about that time the geek got the boy. Henderson is a quirky, terrific, entertaining storyteller."—Lori Ostlund, After the Parade
"
Henderson's novel is sure to delight proud nerds with its story of a young man searching to belong against a backdrop of mischief and magic."—
Foreword Reviews