The Women's Heritage Sourcebook: Bringing Homesteading to Everyday Life (Hardcover)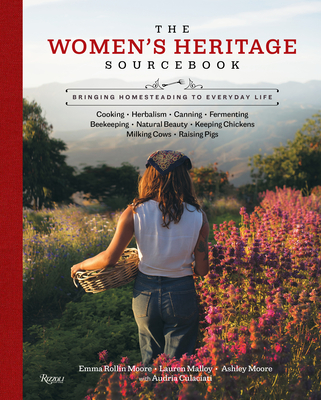 $35.00
On Our Shelves Now - Please call to confirm stock for hot titles
Description
---
The book of the movement that applies homegrown practices of self-sufficiency to modern life.

Homesteading is a lifestyle of self-reliance and sustainability, characterized by home gardening and animal husbandry, food preservation, and even the small-scale production of textiles, clothing, and craftwork.

This indispensable reference book is divided into three sections: food (from sourdough bread baking to pickling vegetables to fermenting kefir), herbalism (from growing an herbal garden to making skin and hair care products to foraging), and animal husbandry (from beekeeping to buying, raising, and owning chickens, cows, and pigs).

Lavishly illustrated with 250 full-color photographs and full of detailed tips, techniques, and recipes, this reference book is comfortable on the coffee table, in your kitchen, or even propped open for use in your backyard garden.
About the Author
---
The goal of Women's Heritage is to bring elements of the homestead into everyday life. Ashley Moore is a mother, artist, and herbalist who has studied herbal medicine with Rosemary Gladstar, Susun Weed, and the Herbal Academy. Emma Moore is an educator, yogi, healthy lifestyle coach, and mother who cares about how her children are being raised in this world. Lauren Malloy has a degree in animal science and conservation biology. She is also the creator of Worn Wear, a used clothing and repair campaign for the outdoor company Patagonia. Audria Culaciati is a freelance writer who believes in women empowering each other with and through their craft.
Praise For…
---
"Nikki Reed's Top Eco Picks: These girls are my go-to for tips on sustainable living, recipes, DIY products and more. They just released their new book as well, focusing on empowering women, farming, apothecary, and beyond." – HARPER'S BAZAAR

"The title is ideally timed to illuminate us on the ins and outs of everything from the art of a well-curated edible flower salad and how to lacto-ferment ketchup, to the difference between Buff Orpington hens and Rhode Island Reds, to recipes for make-your-own toothpaste (hint: don't forget the French clay). It also features experts in each discipline, including co-founder of fermented alcohol brand the Apiary, Rachna Hailey, and beekeeper Nicole Ulabarri who runs Morris Honey." —C Magazine: California Style & Culture