Villa Triste: A Novel (Paperback)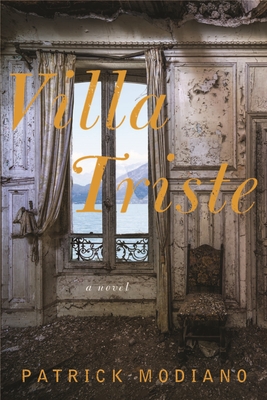 $13.95
This title is likely Out of Print or otherwise unavailable
Description
---
This novel by Nobel Prize–winning author Patrick Modiano is one of the most seductive and accessible in his oeuvre: the story of a man's memories of fleeing responsibility, finding love, and searching for meaning in an uncertain world
 
The narrator of Villa Triste, an anxious, roving, stateless young man of eighteen, arrives in a small French lakeside town near Switzerland in the early 1960s. He is fleeing the atmosphere of menace he feels around him and the fear that grips him. Fear of war? Of imminent catastrophe? Of others? Whatever it may be, the proximity of Switzerland, to which he plans to run at the first sign of danger, gives him temporary reassurance.
            The young man hides among the other summer visitors until he meets a beautiful young actress named Yvonne Jacquet, and a strange doctor, René Meinthe. These two invite him into their world of soirees and late-night debauchery. But when real life beckons once again, he finds no sympathy from his new companions.
            Modiano has written a haunting novel that captures lost youth, the search for identity, and ultimately, the fleetingness of time.
 
 
 
 
 
 
 
 
 
About the Author
---
Patrick Modiano is a French novelist and recipient of the 2014 Nobel Prize in Literature. He previously won the 2012 Austrian State Prize for European Literature, the 2010 Prix mondial Cino Del Duca from the Institut de France for lifetime achievement, the 1978 Prix Goncourt for Rue des boutiques obscures, and the 1972 Grand Prix du roman de l'Académie française for Les Boulevards de ceinture. His works have been translated into more than forty languages.

John Cullen was the translator of many books from Spanish, French, German, and Italian, including Siegfried Lenz's The Turncoat, Juli Zeh's Empty Hearts, Patrick Modiano's Villa Triste, Kamel Daoud's The Meursault Investigation, and Philippe Claudel's Brodeck.
Praise For…
---
"It has taken more than 40 years for this small masterpiece by the Nobel prize-winner to find its English translation from the original French. The wait has been worthwhile. . . This great novel is infused with nostalgia for a lost time, place and people so intimately described that Victor's memories begin to feel like our own." –Guardian 

"A French Nobel laureate's beguiling 1975 novel about an elusive young man's memory of love and friendship. . . Beautifully translated by John Cullen, this novel does not dip into that "life-world" of the French Occupation, but it does bear out the rest of the Nobel citation in being a seductive and at times poignant exploration of memory." —Minneapolis Star-Tribune

"Like all of Modiano's novels, this is a brilliant evocation of guilt and memory." –Catholic Herald

"Adding more color to Modiano's exquisite palette; highly recommended." —Library Journal Starred Review

"Nobel Prize-winning French writer Modiano develops his now-trademark demimonde of secrets kept and personae doffed and donned . . . A brilliant evocation of place, memory, and loss, shot through with an aching nostalgia." —Kirkus Reviews

"Beautifully translated by Cullen, [Villa Triste] is more substantial and satisfying than much of what has appeared thus far from Nobel laureate Modiano."—Booklist