Goodbye, Hurt & Pain: 7 Simple Steps for Health, Love, and Success (Paperback)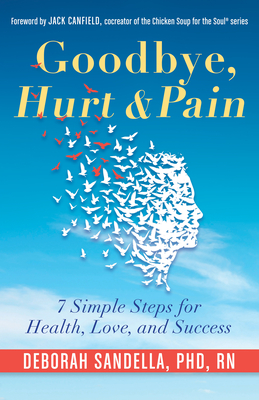 Description
---
Emotions are invisible, taken for granted and dismissed much of the time--a paradox given they are some of the most powerful forces on Earth. They inflame wars, induce death, inspire invention, and control stock markets. More important, each of us has them--all the time.
In Goodbye, Hurt & Pain, Deborah Sandella uses cutting-edge neuroscience research and her revolutionary Regenerating Images in Memory (RIM) technique to show how blocked feelings prevent us from getting what we want, and she introduces a process that bypasses logic and thinking to activate our own emotional "self-cleaning oven." Using imagination, color, and shape to visualize feelings and get straight to the root of longstanding problems, she teaches us to move destructive feelings such as fear, anger, hurt, resentment, and envy out of the body. Letting go of old feelings and traumatic memory at a deep, cellular level makes people feel and look younger, lighter, more energized, and less burdened. And they can begin to experience results after just one or two self-directed sessions.
Goodbye, Hurt & Pain also provides seven organic ways of using your feelings to attract more love, better health, and greater success. The process is fast, fun, and as easy as 1-2-3.
"Wonderful and profound. This book will touch you intimately and probably change your life." --Jack Canfield, from the foreword
About the Author
---
Dr. Deborah Sandella has been helping thousands of people find themselves for 40 years as an award-winning psychotherapist, university professor, and originator of the groundbreaking RIM Method. She has been acknowledged with numerous professional awards including Outstanding Clinical Specialist, Research Excellence, and an EVVY Best Personal Growth Book Award. She is the co-author with Jack Canfield of Awakening Power.
Jack Canfield, legendary author and co-creator of the beloved Chicken Soup for the Soul series, has been empowering entrepreneurs and soothing sick souls for more than thirty years through both his New York Times bestselling books and his formulas for success. Jack, "America's #1 Success Coach," is also the founder and chairman of the Canfield Training Group, which is designed to help people achieve both personal and professional goals. He has been a featured guest on television shows such as Oprah, Montel, and Larry King Live. He also holds the Guinness Book world records for the largest book signing ever (Chicken Soup for the Kid's Soul) and for simultaneously having seven books on the New York Times Bestseller list.
Praise For…
---
"This is so much more than a book! It's an insightful guide to experiencing greater freedom, ease, and success. I've had profound experiences with RIM and this book exceeded my expectations. Get a copy for yourself and someone you love. You'll be glad you did!" --
Marilyn Suttle
, author of
Who's Your Gladys?: How to Turn Even Your Most Difficult Customer Into Your Biggest Fan
— Reviews
"Ground breaking and innovative, best-selling author Dr. Deborah Sandella provides a sacred road map to bypass logic and get to the heart of lingering pain. Using leading-edge research and techniques to shift your body's experience, you'll ultimately transcend even the most painful experiences and discover your innate ability to forgive and love. I highly recommend." --
Dr. Shawne Duperon
, 6-Time EMMY Winner®, Project: Forgive Founder
— Reviews
"With her book,
Goodbye Hurt & Pain: 7 Simple Steps to Health, Love and Success
, Dr. Deborah Sandella makes the case for how we can rapidly activate deep, lasting healing. I recommend it." --
Barnet Bain
, director
Milton's Secret
, producer
What Dreams May Come
, author
The Book of Doing and Being: Rediscovering Creativity in Life, Love and Work
— Reviews
"In her new book
Goodbye Hurt & Pain: 7 Simple Steps to Health, Love, and Success
Dr. Deborah Sandella offers life-changing steps to a better life. It's a must-read!" --
Sheri Fink
, inspirational speaker and author
— Reviews
"If you want to live the most inspired life possible, you will need to deal with your amazing emotions. And Deb Sandella provides a groundbreaking, magical, and credible approach to instantaneously shifting our feelings. Mark this day--because this is a powerful process you're going to use again and again." -
Tama Kieves
,
USA Today
featured visionary career catalyst and best-selling author of
A Year without Fear: 365 Days of Magnificence
(Tarcher/Penguin) www.TamaKieves.com
— Reviews
"Who would have thought that emotions have an intelligence and power? Deb Sandella breaks new ground as she explores the underbelly of emotions where grievances, hurts, fears and life shaping experiences create their own unseen operating system. If one were to actually use Sandella's proven methods to transform past hurts, create magnetizing new memories and use imagination as a tool for powerful emotional reconstruction, a person's life could be revitalized and an extraordinary new sense of personal freedom achieved.
For anyone who feels stuck, unfulfilled, or just knows there can be more to life than you're now experiencing, this is the book can help open an exciting way of experiencing yourself and the world around you. If life is a stage, Deb Sandella would receive a standing ovation for one of the most liberating books of our time. Bravo Dr. Sandella, you haven't been boring God." --Jean Houston, Ph.D., Author, Speaker, Philosopher
— Reviews
"Deb Sandella's Goodbye, Hurt and Pain, is impossible to put down. Like a compelling mystery novel, Sandella introduces clues that unlock the mysteries of our emotions that impact our perception and response to life. It's no surprise that she developed a well-tested process for turning around past emotional experiences that clog the wheels of our relationships, aspirations, finances and personal success.
Goodbye, Hurt and Pain is a necessary handbook for anyone who would like to hit the reset button on your life. Abuse, illness, fear, low self-esteem, personal traumas, failed relationships, career stagnation, and untimely losses no longer need to define your life. Sandella interweaves the best of neuroscience, psychology, and her own experience in a fascinating book of emotional discovery. Thanks to this brilliant book, your regenerated self can rise above the ashes of the past into a world of hope and new possibilities." --Constance Buffalo, President, Renaissance Project, Intl.
— Reviews
"This book has the potential to change your life in amazing ways.
Goodbye Hurt & Pain: Seven Simple Steps to Health Love and Success
is a user-friendly guide to better moods, relationships, and results. Dive in and enjoy the transformation!" --
Ellen Rogin, CPA, CFP(r)
, co-author of the
New York Times
bestseller
Picture Your Prosperity
— Reviews
"Dr. Deb shares a new technique that transforms anxiety, worry, and fear into confidence, joy, and success.
Goodbye Hurt and Pain
is filled with exercises and inspiring examples that give us a fresh and profound approach to creating health, love, and fulfillment that is nothing short of miraculous. Highly recommended!" --
Peggy Cappy
, creator of
Yoga for the Rest
of Us as seen on public TV
— Reviews
"Dr. Deborah Sandella is changing the way we perceive our emotional selves. Her book
Goodbye Hurt & Pain: Seven Simple Steps to Health, Love and Success
shows us that we have a smart emotional operating system with greater resourcefulness and adaptability than we've ever thought. This book is uplifting and inspiring." --
Marci Shimoff
, #1
New York Times
bestselling author of
Happy for No Reason
— Reviews
"Dr. Deborah has found a way to share information on techniques for transforming challenging emotions into life affirming expression. Take a dive into this work, commit to your growth and then expect miracles." --
Cynthia James
, International author/teacher and author of
I Choose Me: The Art of Being a Phenomenally Successful Woman at Home and at Work
— Reviews
"What Steven Covey is to living a highly successful life, Dr. Deb is to Health, Love and Success.
Goodbye Hurt & Pain: Seven Simple Steps to Health Love and Success
offers a brilliant combination of engaging reading with understandable neuroscience." --
Teresa de Grosbois
, #1 International Best-selling author of
Mass Influence
— Reviews