Quarterly Essay 61: Balancing ACT: Australia Between Recession & Renewal (MP3 CD)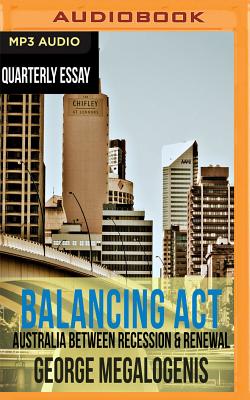 $9.99
This title is likely Out of Print or otherwise unavailable
Description
---
Australia is in transition. Saying it is easy. The panic kicks in when we are compelled to describe what the future might look like. There is no complacent middle to aim at. We will either catch the next wave of prosperity, or finally succumb to the Great Recession.
In this urgent essay, George Megalogenis argues that Australia risks becoming globalisation's next and most unnecessary victim. The next shock, whenever it comes, will find us with our economic guard down, and a political system that has shredded its authority. Megalogenis outlines the challenge for Malcolm Turnbull and his government. Our tax system is unfair and we have failed to invest in infrastructure and education.
Both sides of politics are clinging defensively to an old model because it tells them a reassuring story of Australian success. But that model has been exhausted by capitalism's extended crisis and the end of the mining boom. Trusting to the market has left us with gridlocked cities, growing inequality and a corporate sector that feels no obligation to pay tax. It is time to redraw the line between market and state. Balancing Act is a passionate look at the politics of change and renewal, and a bold call for active government.
It took World War II to provide the energy and focus for the reconstruction that laid the foundation for modern Australia.Will it take another crisis to prompt a new reconstruction? George Megalogenis has thirty years' experience in the media, including over a decade in the federal parliamentary press gallery. His book The Australian Moment won the 2013 Prime Minister's Literary Award for non-fiction and the 2012 Walkley Award for non-fiction, and formed the basis for the ABC documentary series Making Australia Great.
His most recent book is Australia's Second Chance and he is also author of Faultlines, The Longest Decade and a previous best-selling Quarterly Essay, Trivial Pursuit: Leadership and The End of the Reform Era.