World on the Brink: How America Can Beat China in the Race for the Twenty-First Century (Hardcover)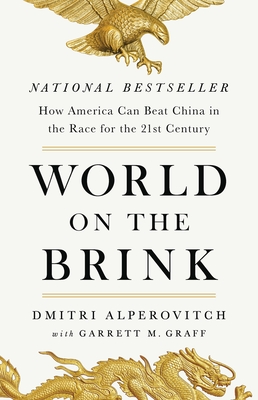 $32.50

Coming Soon - Available for Pre-Order Now - Please check release date!
Description
---
A leading national security expert, who publicly predicted Vladimir Putin's intention to launch a full-scale invasion of Ukraine months before it took place, lays out the case for why China's Xi Jinping is preparing to conquer Taiwan in the coming years and the dire stakes for America and the whole world if he is not deterred.

In World on the Brink, security expert Dmitri Alperovitch makes the case that we are already in the midst of Cold War II, with China, and that Taiwan is the perilous strategic flashpoint of this new conflict that risks triggering a devastating war between major nuclear powers in a similar role that West Berlin nearly played during Cold War I.

Laying out the comprehensive strategy to deter war and maintain U.S. place as the world's leading superpower in the face of rising China, Alperovitch breaks down not only the significant weaknesses that can prevent China from surpassing the United States, but also the key policies that will enable America to maintain primacy even as China ramps up its efforts. 

As Alperovitch explains, we must play to our strengths and address our weaknesses, using our leverage as the strongest nation on the planet to tactfully navigate the next Cold War. This sharp, timely book is the essential blueprint for doing just that.
About the Author
---
Dmitri Alperovitch is an internationally recognized thought leader on geopolitics and national security and co-founder and executive chairman of Silverado Policy Accelerator, a think-tank focused on policy solutions in national security, trade and industrial security, and ecological and economic security.  He is also the co-founder of the leading cybersecurity company CrowdStrike Inc. Alperovitch serves on the Homeland Security Advisory Council of the Department of Homeland Security and as a founding board member of US Government's Cyber Safety Review Board, and has previously served as a special advisor to the Department of Defense. He is the host of Silverado's "Geopolitics Decanted" podcast.
 
Garrett M. Graff is a journalist and historian who has spent nearly two decades covering politics, technology, and national security. The former editor of POLITICO Magazine and a current contributor to WIRED and CNN, Graff also serves as the founding director of the Aspen Institute's cybersecurity program. He is the author of multiple books, including the New York Times bestseller The Only Plane in the Sky: An Oral History of 9/11, and most recently Watergate: A New History.