Never Settle: Sports, Family, and the American Soul (Paperback)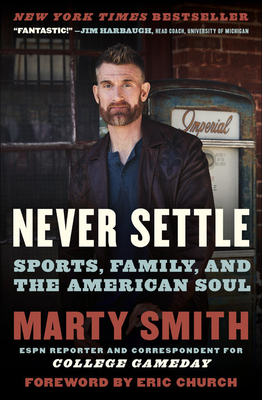 $16.99

On Our Shelves Now - Please call to confirm stock for hot titles
Description
---
The amazing and blessed life of popular ESPN reporter and correspondent for College GameDay, Marty Smith, whose mission in this thoughtful and funny memoir is to return fans to the true soul of sports in this country.
You know Marty right? The guy during College GameDay hanging off the back of a pickup truck while zooming around the Clemson athletic facilities. The guy who visits Nick Saban's lake house and somehow gets Coach to jump in the lake. The guy who sits down with Dale Jr. at Daytona to talk through tears about his miraculous return to racing. The guy who interviews Tiger Woods, Tim Tebow, Peyton Manning and Jimmie Johnson -- the guy who gets paid to live the fantasy of every sports fan in America.
Never Settle is the funny but oh, it's true story of how Marty got here, and a revealing look at his journey. Never Settle includes all the best stories and behind-the-scenes moments from Marty's wild life, covering topics including: college football, racing, fathers and sons, how sports can bring us together, and how it all goes back to growing up on a farm and playing high school ball in Pearisburg, Virginia.
About the Author
---
Marty Smith is one of ESPN's most popular and recognized reporters and hosts who currently covers a variety of sports including college football, basketball, both the NFL and NBA, NASCAR and others. Smith's features and reporting are often seen on ESPN platforms including SportsCenter and ESPN.com. Smith, who joined ESPN in 2006, launched his own show Marty Smith's America in August 2017 on ESPN2. Smith also co-hosts the popular radio show Marty and McGee on ESPN Radio.
From 2007-2014, Smith was ESPN's lead NASCAR reporter for both SportsCenter and the former NASCAR Now program. Prior to joining ESPN, Smith was a senior writer for NASCAR.com. A Radford University graduate, Smith covered sports for daily newspapers in Roanoke and Lynchburg, Va., before joining NASCAR.com.
Praise For…
---
"Marty Smith is fantastic! The thing I really admire is his passion and enthusiasm. Marty is engaged the whole time -- he hustles and gets involved emotionally in the stories he tells. He's a great professional, great for college football, and I just have a great admiration for him."—Jim Harbaugh, Head Football Coach, University of Michigan

"I've known Marty for what seems like our entire lives. He's an extremely hard worker. He's full of life. He's the friend everyone hopes to have. His life's been an incredible journey, and within the pages of Never Settle, you're along for the ride."—Dale Earnhardt, Jr., two-time Daytona 500 champion and New York Times bestselling author of Racing to the Finish

"Marty Smith's gift exceeds his power to connect with those he chronicles. For through that connection, with people famous and obscure, with some of the biggest names in sports and others you've never heard of, he conjures moments universal and intimate. This is a book of uncommon humanity -- shaped by stories, including Marty's own -- rendered in a voice as pure as the soil where it was nurtured."—Tom Rinaldi, national ESPN correspondent and New York Times bestselling author of The Red Bandanna