Choices: A Post-Roe Abortion Rights Manifesto (Hardcover)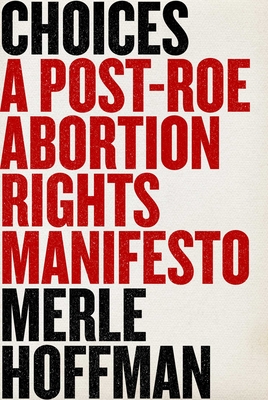 Description
---
"Merle Hoffman has always known that in a democracy, we each have decision-making power over the fate of our own bodies. She is a national hero for us all." ​—Gloria Steinem

In the wake of the Supreme Court overturning Roe V. Wade and a country divided, a pioneer in the pro-choice movement and women's healthcare offers an unapologetic and authoritative take on abortion and women's right to choose.

Merle Hoffman has been at the forefront of the reproductive freedom movement since the 1970s. Three years before the Supreme Court legalized abortion through Roe v. Wade, she helped to establish one of the United States' first abortion centers in Flushing, Queens, and later went on to found Choices, one of the nation's largest and most comprehensive women's medical facilities. For the last five decades, Hoffman has been a steadfast warrior and fierce advocate for every woman's right to choose when and whether or not to be a mother.

Now, amidst the aftermath of the Dobbs Decision, Hoffman has carefully compiled her decades of analysis, research, and experience into a tour de force manifesto that sheds light on the catastrophic repercussions of overturning Roe, and what we must do moving forward to ensure the safety and legality of abortion nationally.

In Choices, Hoffman expresses her views on where we are and what lies ahead. She covers topics ranging from: revamping the healthcare system to support women's rights; combatting rising authoritarianism; the weaponization of religion; fighting the antis; practicing courage; sabotage from within the movement; and activating the next generation in the fight for reproductive justice.
About the Author
---
Merle Hoffman is an activist, healthcare pioneer, award-winning journalist, and founder/CEO of Choices Women's Medical Center. She co-founded the National Abortion Federation in 1976, the first professional organization of abortion providers in the US, and in 1985 founded the New York Pro-Choice Coalition, which organized the first pro-choice disobedience action at St. Patrick's Cathedral in 1989 when nine people were arrested. Hoffman is the publisher and editor-in-chief of On the Issues magazine as well as the author of Intimate Wars: The Life and Times of the Woman Who Brought Abortion from the Back Alley to the Boardroom. She resides in New York City with her daughter and five animals.
Praise For…
---
Praise for Choices:

"A razor-sharp commentary on one of the most pressing civil rights issues of our time. Unapologetic. Provocative. Brave." —Letty Cottin Pogrebin, writer, activist, and cofounding editor of Ms. magazine

"Passionate, sophisticated, philosophical, political, personal—Choices is an essential historical and moral guide to the last fifty years of pro-abortion and anti-abortion activism and legislation. Merle Hoffman is an exuberant and widely-read feminist warrior, a front-line organizer and a first-rate debater, as well as the founder of our country's largest abortion clinic. Carry this book with you into the future, it will serve you brilliantly." —Phyllis Chesler, cofounder, National Women's Health Network, and author of twenty books including Women and Madness and Requiem for a Female Serial Killer

"Talk about role models for feminists!For more than fifty years Merle Hoffman, the no-bullshit philosopher/healer/manifester behind Choices Women's Medical Center, has practiced courage, resilience, and readiness for all that abortion-rights foes (and friends) have thrown at her. Choices: A Post-Roe Abortion Rights Manifesto documents the dramatic day-to-day of creating the conditions for women to exercise dominion over their bodies and lives, and revealing the powerful love that drives this work." —Jennifer Baumgardner, author and creator of the I Had an Abortion project

"Choices is a call to action for everyone concerned about the attack on women's abortion rights. Merle Hoffman, a long-time provider of abortion services and an indefatigable activist, spells out ways to tackle those who would end women's bodily freedom—and draws on important personal and historical facts to do so. Hers is a critical voice in the struggle." —Elizabeth Holtzman, former US congresswoman, attorney, author of The Case for Impeaching Trump

"Merle Hoffman is one of the nation's earliest and most creative leaders in the abortion movement. A compassionate provider of abortion services and a fearless fighter for women's rights worldwide, her words speak volumes. Choices is a must read for moving the needle on abortion at a critical time." —Frances Kissling, president, The Center for Health, Ethics, and Social Policy, Washington DC 

Praise for Merle Hoffman:

"Merle Hoffman has always known that in a democracy, we each have decision-making power over the fate of our own bodies. She is a national hero for us all." ​—Gloria Steinem

"By age 30 [Hoffman] was on the front-lines of the pro-choice battlefield and the founder of one of the earliest and most successful women's health clinics to offer legal abortion in the U.S. With her trademark oversized metal coathanger (a reminder to women of the perils of DIY abortions) raised in warning she took on politicians and protesters, facing down death threats and firebombings to defend the right of women to make reproductive health decisions."—Forbes

"[Hoffman's] practice developed what have become patient-centred standards for abortion care, providing emotional support, informed consent and other reproductive health services in a field that Ms Hoffman found was driven by largely patriarchal and paternalistic attitudes towards patients." —The Independent

"Through her work at Choices, her writing and her activism, Hoffman continues to advocate for access to reproductive healthcare and information for all people who need it, in the U.S. and abroad." —Lilith

"Hoffman has found various means and made tremendous sacrifices to ensure that women are not only educated on the sweeping political decisions that affect their bodies, but also have a say when those discussions take place. . . . She was instrumental in founding an ambulatory abortion center in Flushing, the first of its kind in the nation, two years prior to the historic Roe v. Wade Supreme Court decision. That center would soon be renamed the Choices Women's Medical Center before finally being expanded into a full-service women's health facility in Jamaica. Today, that center is one of the largest and most comprehensive women's health centers in the country." —Queens Tribune