If I Don't Make It, I Love You: Survivors in the Aftermath of School Shootings (Paperback)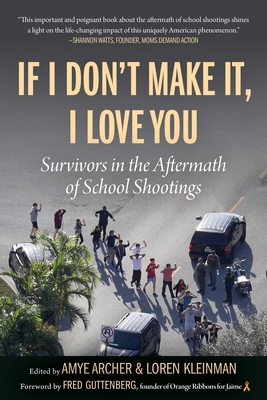 Description
---
"The result is an important and horrifyingly thick anthology of mass murders...Highly difficult to read in one sitting, but we must not look away." —Kirkus Reviews

A harrowing collection of sixty narratives—covering over fifty years of shootings in America—written by those most directly affected by school shootings: the survivors.

"If I Don't Make It, I Love You," a text sent from inside the war zone like scene of a mass shooting, a text meant for Stacy Crescitelli, whose 15-year-old daughter, Sarah, was hiding in a closet fearing for her life in Parkland, Florida, in 2018, while a gunman sprayed her school with bullets, killing her friends, teachers, and coaches. This scene has become too familiar.

We see the images, the children with trauma on their faces leaving their school in ropes, connected to one another with hands on shoulders, shaking, crying, and screaming. We mourn the dead. We bury children. We demand change. But we are met with inaction. So, we move forward, sadder and more jaded. But what about those who cannot move on?

These are their stories.

If I Don't Make It, I Love You collects more than sixty narratives from school shooting survivors, family members, and community leaders covering fifty years of shootings in America, from the 1966 UT-Austin Tower shooting through May 2018's Santa Fe shooting.

Through this collection, editors Amye Archer and Loren Kleinman offer a vital contribution to the surging national dialogue on gun reform by elevating the voices of those most directly affected by school shootings: the survivors.
Praise For…
---
"This important and poignant book about the aftermath of school shootings shines a light on the life-changing impact of this uniquely American phenomenon. Gunfire, or the threat of it, on our kids' school and college campuses has become such a regular occurrence that too many Americans are numb to this senseless and preventable violence. And that's exactly why this book is so important: The stories of the survivors of school shootings bring these tragedies to life for lawmakers, influencers and advocates. Just as I was moved to become an activist after the shooting at Sandy Hook School in 2012, those who read this book will be stirred to get off the sidelines and help fight for safer schools and stronger gun laws."
—Shannon Watts, Founder, Moms Demand Action

"If I Don't Make It, I Love You: Survivors in the Aftermath of School Shootings is a powerful and emotional book that brings you to the forefront of every major school shooting in the United States. Through heart-wrenching recounts of each survivor, you'll get to experience a fraction of the trauma, heartbreak, and the eventual activation for change that occurs after a tragedy of this kind. Empathize with the survivors, and learn how to be a part of the solution in this heartbreaking collection of these horrific tragedies."—Sofie Whitney, co-founder of March For Our Lives

"If you love your book club, then make them read If I Don't Make It, I Love You — one of the most profound non-fiction accounts of the impact of school shootings on a community's psyche" —Donna Dees-Thomases, founder of the Million Mom March and author of Looking for a Few Good Moms: How One Mom Rallied a Million Others.