Daddy and Me (Board book)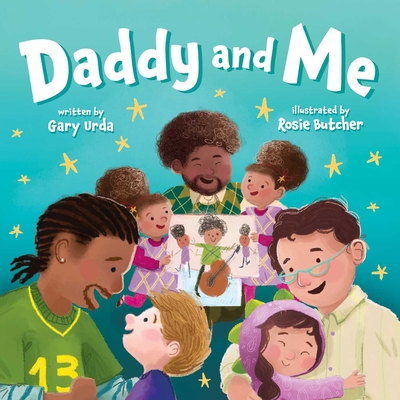 Description
---
Celebrate Father's Day with this sweet ode to Daddies everywhere!

"The colors are vibrant and inviting, with plenty to take in on each page. Overall, this simple tale shows fathers as the diverse, capable, loving parents that they are. A warm and enticing celebration of doting fathers." Kirkus Reviews

"In this tender concept book, a series of brief snapshots depicts loving interactions between children and their fathers...celebrating the fragile beauty of small moments. The warm, hazy textures of the art beckon readers into the coziness of each scene. A sweet and worthy addition to family-themed collections, particularly those needing more titles with father-child relationships." School Library Journal


Whether you love to cook with your papa, read with your dada, go to the park with your bàba, or stargaze with your appa, everything is better with daddy. This adorable board book celebrates dads and all the wonderful ways they make our lives special.
About the Author
---
Gary Urda is the author of Love You More and proud father of three wonderful young men: Tyler, Sean, and Luke. He lives in East Northport, New York, with his beautiful wife, Nicole, and their children. The Urdas enjoy game nights, soccer, and doing things together as a family.

Rosie Butcher is an illustrator living in East Yorkshire, England and enjoys working with traditional materials like watercolors and pastels. Her illustrations and working habits are also influenced by history, historical figures and scientific phenomenon; particularly Astronomy. She also gets a great deal of inspiration from music, film and live performances. Rosie loves the way a children's book can influence a child (and more often than not, an adult). Rosie thinks it is important to try to think like a child would and derive inspiration from the adventures of these little beings, and the belief in magic.
Praise For…
---
Whether they are "Papa," "Bàba," "Papi," or "Fadre," fathers love their children.
This board book shows dads engaging in many different forms of love: reading bedtime stories, searching the skies with a telescope, biking, and gardening. Told from the child's point of view, the text is made up of simple, descriptive statements like "Daddy and I play soccer together. He teaches me how to juggle the ball" and "Baba shows me how to dress with style. He makes everything look like new." The book is inclusive, with characters who are diverse in terms of race and ability. Urda also includes a child who talks about a father figure rather than a dad: "Pappy is like my dad-he helps me ride my bike." Butcher's illustrations carefully capture details such as delicate, Afro-textured curls, braids, and crutches. The images show fathers doing a range of tasks, including those traditionally associated with mothers, such as baking and sewing. The colors are vibrant and inviting, with plenty to take in on each page. Overall, this simple tale shows fathers as the diverse, capable, loving parents that they are.
A warm and enticing celebration of doting fathers.
— Kirkus Reviews

In this tender concept book, a series of brief snapshots depicts loving interactions between children and their fathers. Urda's narration shifts seamlessly from one distinct voice ("Sometimes I let him win") to the next ("I call him Daddio"), celebrating the fragile beauty of small moments. All of the people have different rituals, shared activities just right for them: cooking, surfing, stargazing, gardening, sewing. Each father's unique nickname (Dada, Papi, Appa, Baba) reflects the deep linguistic and cultural tradition of the family's ethnic background (­African American, Latino, East Asian, South Asian). In one touching spread, a child with crutches is cared for by a non-biological father figure ("Pappy is like my dad-he helps me ride my bike"). Butcher places the happy duos, trios, and quartets in lush, natural environments-a wave-swept beach, a starry night sky, a meadow in bloom. The characters receive additional depth from the inclusion of subtle details (cowboy boots and hat, rainbow suspenders, an apron with Mexican flags) that hint at rich, full lives. The warm, hazy textures of the art beckon readers into the coziness of each scene. VERDICT A sweet and worthy addition to family-themed collections, particularly those needing more titles with father-child relationships.
— School Library Journal