Shaken in the night: A Survivor's Story from the Yellowstone Earthquake of 1959. (Paperback)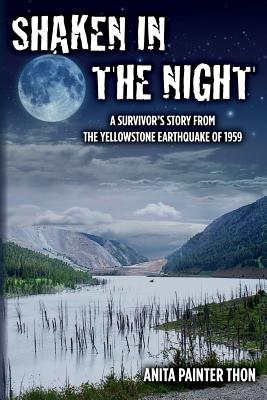 $10.99
Available from our Distributors - Usually arrives in-store in 2-7 days
(This book cannot be returned.)
Description
---
Deep into the night of August 17, 1959, a group of campers in West Yellowstone's Madison River Canyon become suddenly and keenly aware that the earth on which they sleep is a living, breathing planet. What is a simple shudder for Earth is a life-changing event for its inhabitants.
Five of those are members of the Painter family. Anita and her twin sister had just ten days ago turned twelve, and the family's trek to Yellowstone is a birthday celebration. Little do they know this night will slam the two girls, on the cusp of youth, headlong into adulthood. The 7.5 magnitude earthquake rocks the entire region, defacing the mountain and sending hurricane force winds and river water tearing through the campsite.
Anita's personal account of this night is a frightening and tragic story of panic, horror, and courage in the face of disaster. It is also a reminder of the human spirit's resilience and selflessness, as perfect strangers unite to save lives, even at the risk of their own. Life is a fragile miracle, and Anita reminds us to cherish every day and treat it like the gift that it is, lest we're ever shaken in the night.
About the Author
---
Anita Painter Thon is a survivor of the 1959 West Yellowstone earthquake, which claimed her mother's life and critically injured her father. She currently lives in Ogden, Utah, with her husband, Steve, and she is thankful to have two sons and seven grandchildren. Thon cherishes every day and realizes that all blessings come from above. Her natural disaster memoir, Shaken in the Night, is her first book.