Changing Woman: A Novel of the Camp Grant Massacre (Paperback)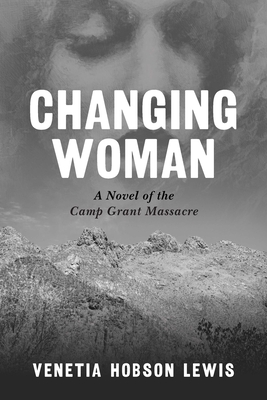 $24.95

Available from our Distributors - Usually arrives in-store in 2-7 days
Description
---
Arizona Territory, 1871. Valeria Obregón and her ambitious husband, Raúl, arrive in the raw frontier town of Tucson hoping to find prosperity. Changing Woman, an Apache spirit who represents the natural order of the world and its cycle of birth, death, and rebirth, welcomes Nest Feather, a twelve-year-old Apache girl, into womanhood in Aravaipa Canyon.

Mexican and Anglo settlers have pushed the Apaches from their lands, and the Apaches carry out raids against them. In turn, the settlers, angered by the failure of the U.S. government and the military to protect them, respond with a murderous raid on an Apache encampment under the protection of the U.S. military at Camp Grant, kidnapping Nest Feather and other Apache children.

In Tucson, while Valeria finds fulfillment in her work as a seamstress, Raúl struggles to hide from her his role in the bloody attack, and Nest Feather, adopted by a Mexican couple there, tries to hold on to her Apache heritage in a culture that rejects her very being. Against the backdrop of the massacre trial, Valeria and Nest Feather's lives intersect in the church, as Valeria seeks spiritual guidance for the decision she must make and Nest Feather prepares for a Christian baptism.

About the Author
---
Venetia Hobson Lewis worked at several stock brokerages and for almost eighteen years as a corporate paralegal for a motion picture studio. She is the author of several award-winning Western short stories.
Praise For…
---
"A powerful portrait of two young women who struggle to determine their own fates. A meticulously researched story brings to life those who participated in the Camp Grant Massacre and those whose lives were forever changed."—Sharon K. Miller, author of the Clay series

"A fascinating and impeccably researched novel of Arizona Territory. Apache, Mexican, and Anglo cultures clash in this harrowing recreation of the Camp Grant Massacre of 1871 and its impact on those who lived through it. Lewis transports the reader to a place and an era not likely to be forgotten. Immensely readable!"—Rosemary Simpson, author of the Gilded Age Mystery series

"The Camp Grant massacre has been written about from many points of view, yet Venetia Hobson Lewis brings a different perspective to the forefront by featuring women from diverse backgrounds and how they may have experienced this historic event. Her expertise of the massacre and her knowledge of Arizona history explode across the pages of this spellbinding novel."—Jan Cleere, author of Military Wives in Arizona Territory: A History of Women Who Shaped the Frontier

"A bright new voice in Southwest fiction, spinning compelling tales of the women who peopled the Old West."—J. A. Jance, author of Nothing to Lose: A J.P. Beaumont Novel

"In riveting scenes narrated by a culturally diverse suite of unforgettable characters (Aravaipa Apache, Mexicano, and Anglo), Venetia Hobson Lewis transports me back to Tucson, Arizona Territory, where simmering tensions between frontier parties build inexorably to the Camp Grant Massacre of 1871. Just as that event forever alters the lives of the Apache survivors and the morally conflicted perpetrators and their family members, the story of Changing Woman continues to resonate. A must-read."—Susan Cummins Miller, author of A Sweet, Separate Intimacy: Women Writers of the American Frontier, 1800–1922

"Imagine if Jane Austen had lived in Tucson, Arizona Territory, throughout the year of 1871. She would have journaled about the tumultuous clash of cultures she witnessed between the Anglos, Aravaipa Apaches, and Mexicanos until its tragic culmination, the Camp Grant Massacre. Changing Woman is an historical novel of great anthropological value akin to Austen's impeccably recorded manners, told largely from the perspectives of women intimately and peripherally affected by the death and capture of nearly two hundred Apache women and children. The remarkable achievement of this novel is Venetia Hobson Lewis's skillful handling of these disparate and desperate female voices and how they merge into a united spiritual appeal for mutual empathy and respect. These voices went ignored in the nineteenth century, and it would be our own spiritual loss to ignore them now."—Sidney Thompson, author of Follow the Angels, Follow the Doves