My Side of the River: An Alaska Native Story (American Indian Lives ) (Paperback)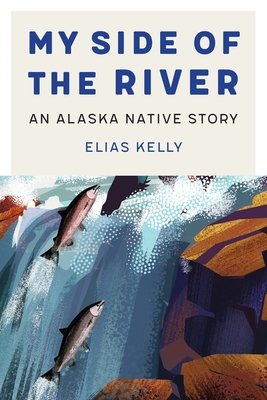 $26.95

Available from our Distributors - Usually arrives in-store in 2-7 days
Description
---
In 1971 the U.S. government created the Alaska Native Claims Settlement Act and extinguished Alaska Native aboriginal rights to hunting and fishing—forever changing the way Alaska Natives could be responsible for their way of life. The Alaska Department of Fish and Game and the U.S. Fish and Wildlife Service claimed all wildlife management responsibility and have since told Natives when, where, and how to fish, hunt, and harvest according to colonial management doctrines. We need only look at our current Alaska salmon conditions to see how these management efforts have worked.

In My Side of the River, agricultural specialist Elias Kelly (Yup'ik) relates how traditional Native subsistence hunting is often unrecognized by government regulations, effectively criminalizing those who practice it. Kelly alternates between personal stories of friends, family, and community and legal attempts to assimilate Native Alaskans into white U.S. fishing and hunting culture. He also covers landownership, incorporation of Alaska residents, legal erasure of Native identity, and poverty rates among Native Alaskans. In this memoir of personal and public history, Kelly illuminates the impact of government regulations on traditional life and resource conservation.
 
About the Author
---
Elias Kelly (Yup'ik) formerly worked in forestry, fisheries, and wildlife management in Southeast Alaska, Fairbanks, Bethel, and Pilot Station. He currently works with the Lower Yukon School District.
Praise For…
---
"My Side of the River establishes Elias Kelly as a passionate, outspoken advocate for Alaska Native resource management rights. Combining cultural knowledge and traditions with a university degree, he provides a unique perspective on a complex set of issues facing Alaskans: Who decides where, when, and how fish, wildlife, and other natural resources are managed, and by whom? Such questions are vital to all of us as we meet an onrushing future."—Nick Jans, author of The Last Light Breaking

"In My Side of the River Elias Kelly presents a unique Alaska Native voice [as] he recounts his personal experiences—growing up along the Yukon, fishing with his brothers, and hunting with friends up sloughs and downriver. He is telling his own story and, at the same time, sharing opinions that will ring true for many Alaska Natives."—Ann Fienup-Riordan, author of Wise Words of the Yup'ik People: We Talk to You because We Love You