Today We Go Home: A Novel (Paperback)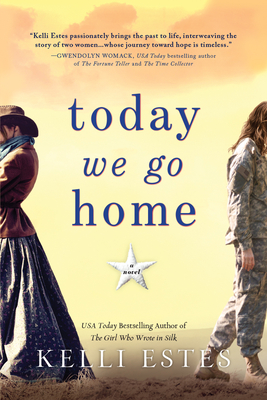 Description
---
"Today We Go Home shines an illuminating light on history and the female soldiers who have served this country from the Civil War to Afghanistan today. Kelli Estes passionately brings the past to life, interweaving the story of two women from different centuries whose journey towards hope is timeless."—GWENDOLYN WOMACK, USA Today bestselling author of The Fortune Teller and The Time Collector
In this evocative work of historical fiction, USA Today bestselling author Kelli Estes pairs two military women who—in the Civil War and Afghanistan—share determination, honor, and a call to serve the United States, no matter the cost.
Seattle, Washington: Larkin Bennett has always known her place, whether it's surrounded by her loving family in the lush greenery of the Pacific Northwest or conducting a dusty patrol in Afghanistan. But all of that changed the day tragedy struck her unit and took away everything she held dear.
Soon after the disaster, Larkin discovers an unexpected treasure—the diary of Emily Wilson, a young woman who disguised herself as a man to fight for the Union in the Civil War. As Larkin struggles to heal, she finds herself drawn deeply into Emily's life and the secrets she kept.
Indiana, 1861: The only thing more dangerous to Emily Wilson than a rebel soldier is the risk of her own comrades in the Union Army discovering her secret. But, as the war marches on and takes its terrible toll, Emily begins to question everything she thought she was willing to risk her life for.
Historical fiction fans of Marie Benedict, Beatriz Williams, and Kate Quinn will be inspired by this story of two women in militaries, separated by centuries, but united in hope and dignity.
About the Author
---
Kelli Estes lived in the deserts of eastern Washington state and Arizona before settling in the Seattle area, which she loves so much she plans to forever live near the water. She's passionate about stories that help us see how the past shaped who we are today, and how we all have more in common than not. She lives in the Pacific Northwest with her family. This is her first novel.
Praise For…
---
"Today We Go Home shines an illuminating light on history and the female soldiers who have served this country from the Civil War to Afghanistan today. Kelli Estes passionately brings the past to life, interweaving the story of two women from different centuries whose journey towards hope is timeless. " — Gwendolyn Womack, USA Today bestselling author of The Fortune Teller and The Time Collector

"Illuminating, sympathetic and deeply human, Today We Go Home shines a much-needed light on the brave, bold women of all eras whose military service puts even more than their lives on the line." — Greer Macallister, author of Woman 99 and The Magician's Lie

"Two women, separated by a century and a half, survive life in the United States military in Estes' suspenseful, neatly structured second novel...brings the Civil War era to life and effectively links it to contemporary times." — Kirkus Reviews

"Pairing the dual narratives of Larkin and Emily, Estes relates the hardships faced by women who serve in the military...Based on the real-life stories of women who served, this is an excellent read and highly recommended." — Booklist

"Through moving details in twin centuries, both the power of war to destroy and the healing nature of love and art, even across time, are beautifully conveyed." — Historical Novel Society

"This tender story about complex women is an easy one to fall into. It makes the perfect read for those who savor the finer details of historical fiction and love to cheer for strong female protagonists." — Due South Magazine

"A compelling examination of war and its contradictions, and a moving story of two women fighting for their own places in the world." — Shelf Awareness

"A story of breathtaking resilience, honor, and courage in the face of unprecedented challenges. Characters' struggles quite literally transcend time and generations, offering up connection and hope in a time of need. And, as Larkin comes to understand and say, hope never tasted so sweet." — Booktrib