Germany's French Allies 1941–45 (Men-at-Arms #556) (Paperback)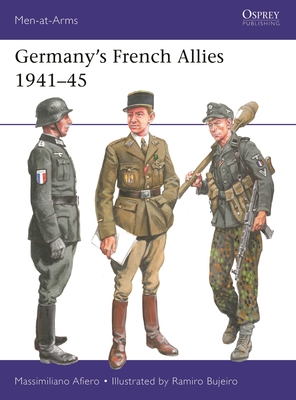 $20.00

Not Yet Published - Please check release date!
Description
---
A fully illustrated study of the Wehrmacht's French volunteer units and their actions on the Eastern Front and in North Africa during World War II.

It is little known that, in late 1941, French volunteer units were among Wehrmacht troops defending Germany in the first bitter winter on the Eastern Front, and also among the last fighting for Berlin in April 1945. After Germany invaded the Soviet Union in June 1941, some 13,000 Frenchmen enlisted in the 'Légion des volontaires français contre le bolchévisme' (LVF), which was reformed as the Wehrmacht's Infanterie-Regiment 638 and posted to Russia.

This volume examines the involvement of French volunteers, not only on the Eastern Front, but also in the 'Phalange Africaine' in Tunisia and in the 'Légion Tricolore', a short-lived military organization under the control of the French Vichy government. Using archive photographs and specially commissioned artwork, it casts a new light on forces fighting for the Axis and studies the French personnel's equipment, insignia and uniforms while describing their involvement in some of the most gruelling battles of World War II.
About the Author
---
Ramiro Bujeiro has become a frequent and popular contributor to Osprey since illustrating Warrior 23:US Marine in Vietnam 1965–73
(1998). He is an experienced commercial artist who lives and works in his native city of Buenos Aires, Argentina. His professional background includes commissions as a figure illustrator and strip cartoonist for clients all over Europe, the Americas and in Great Britain. His main interests are the political and military history of Europe in the first half of the 20th century.