Breaditation: De-stress by Making Bread (Hardcover)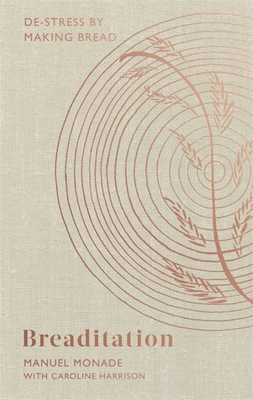 $21.99

Not Yet Published - Please check release date!
Description
---
BREADMAKING + MEDITATION = BREADITATION</b><b>. Feel your tension drain away as you mix, knead, prove and bake these specially selected, straightforward recipes for breads, from ciabatta to bagels and sourdough.

'Though at its heart a book of reliable bread recipes you can utterly trust . . . the relaxed baking techniques in Breaditation can help unravel the stress and trauma in our life' Dan Lepard

'The only breadmaking book you'll ever knead for your mental wellbeing' Professor David Veale, The Maudsley Hospital

In Breaditation, professional baker Manuel Monade shows, with the help of psychotherapist Caroline Harrison, how the four stages of bread making - kneading, proving, shaping and baking - can help you to de-stress. Bread making, because it involves all our senses - sight, smell, taste, touch and hearing - can help us to focus on and feels safe in the present,which helps to combat anxiety, elevate our mood, improve our self-esteem and, through a mindful focus on the present, de-stress. Even if you feel simply angry or upset, bread making can help.

Breaditation includes more than twenty straightforward recipes, from ciabatta and pitta to brioche, crackers and sourdough. There is nothing too technically demanding, so that there is an immediate sense of achievement and pleasure in the bread you have made.
 
About the Author
---
MANUEL MONADE moved to the UK in 1987, from Paris, where he was studying archaeology and art history at La Sorbonne. In London, he opted for a more hands-on vocational path, first becoming a qualified chef then moving on to baking in various West End restaurants in the exciting London food scene of the 1980s and 1990s. His defining moment came when he joined the original team at St John Restaurant in Smithfield. Fergus Henderson, the head chef and proprietor, insisted on having real artisan bread freshly baked in-house for each service. Dan Lepard was the main baker and he introduced Manuel to breadmaking. When Dan left, Manuel took over the small bakery and never returned to working as a chef again. He baked not only for the restaurant but also for the local community in Farringdon and Clerkenwell. Manuel returned to France to train at L'Institut National de la Boulangerie Patisserie in Rouen before returning to work in London. For many years he worked with Matt Jones at Flourpower City Bakery, before becoming a teacher at Bread Ahead baking school. Manuel is the current chair of the Southwark Refugee and Migrant Project, an organisation he has been working with for the past twenty years. Having helped people facing stressful situations in the course of his charitable work, and also having experienced the sense of achievement of his students, he is interested in the therapeutic potential of baking to enhance wellbeing.

CAROLINE HARRISON is a BABCP-accredited Cognitive Behavioural Therapist and EMDR (Eye Movement Desensitisation and Processing) therapist and supervisor with over twenty years' experience in the NHS, working in a range of adult, child and adolescent therapeutic services.