Made for Friendship: The Relationship That Halves Our Sorrows and Doubles Our Joys (Paperback)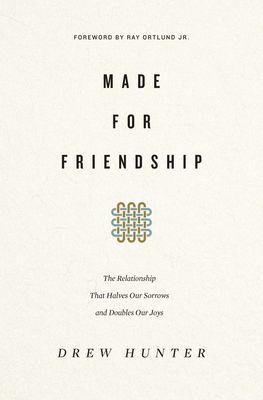 $16.99
Available from our Distributors - Usually arrives in-store in 2-7 days
Description
---
God made you for friendship.
Friendship is one of the deepest pleasures of life. But in our busy, fast-paced, mobile world, we've lost this rich view of friendship and instead settled for shallow acquaintances based on little more than similar tastes or shared interests.
Helping us recapture a vision of true friendship, pastor Drew Hunter explores God's design for friendship and what it really looks like in practice--giving us practical advice to cultivate the kinds of true friendships that lead to true and life-giving joy.
About the Author
---
Drew Hunter (MA, Wheaton College) is the teaching pastor at Zionsville Fellowship in Zionsville, Indiana. He is the author of Made for Friendship and the Isaiah and Matthew volumes in the Knowing the Bible series. Drew and his wife, Christina, live in Zionsville, Indiana, and have four children.Ray Ortlund is the president of Renewal Ministries and pastor to pastors at Immanuel Church, Nashville. He is also the author of several books, including the Preaching the Word commentaries on Isaiah and Proverbs and Marriage and the Mystery of the Gospel. He is also a contributor to the ESV Study Bible. Ray and his wife, Jani, have been married for fifty years.