The Conversation on Guns (Paperback)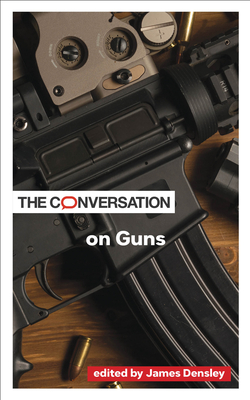 Description
---
From TheConversation.com, an exploration of the devastating gun violence in the United States--and possible ways to stop it.
In The Conversation on Guns, editor James Densley brings together a group of expert scholars to explore the role of guns in US society and the tragic impacts of gun violence. From the many forms of gun violence, to effective and innovative public health and community-led initiatives to curb it, the authors discuss how and why guns are deeply rooted in American history and culture by examining both the politics and policies around gun safety. Grounded in the latest research, these short and accessible articles written by experts in criminal justice, law, sociology, public health, history, and education explain how the United States became so saturated with guns and what the prevalence of guns is doing to our society.
The Critical Conversations series collects essays from top scholars on timely topics, including water, biotechnology, gender diversity, and more, originally published on the independent news site The Conversation.
Contributors: Pierre M. Atlas, Deborah Azrael, Michelle Barnhart, Paul Boxer, Brad J. Bushman, Marika Cabral, Patrick Carter, Philip J. Cook, Saul Cornell, Rebecca Cunningham, James Densley, Greg Dickinson, John J. Donohue III, Frank Edwards, Sandro Galea, Richard Gunderman, Connie Hassett-Walker, Paul Hirschfield, Aimee Dinn n Huff, Arash Javanbakht, Bokyung Kim, Michael J. Klein, Anita Knopov, Susanna Lee, Morgan Marietta, Frank McAndrew, Jonathan M. Metzl, Matthew Miller, Brian L. Ott, Molly Pahn, Jillian Peterson, Dan Romer, Maya Rossin-Slater, Allen Rostron, Molly Schnell, Hannes Schwandt, Donald H. Sebastian, Michael Siegel, Rebeccah Sokol, Robert Spitzer, Peter Squires, Jeremy Straub, Tom Stucky, Ashwini Tambe, Jennifer Tucker, John A. Tures, Lacey Wallace, Andrew P. Wheeler, Garen Wintemute, Cary Wu, April M. Zeoli, Marc A. Zimmerman
About the Author
---
James Densley (ARDEN HILLS, MN) is a professor of criminal justice at Metro State University and the cofounder of The Violence Project research center. He is the coauthor or author of more than ten books, including The Violence Project: How to Stop a Mass Shooting Epidemic.