Comedy Bang! Bang! The Podcast: The Book (Hardcover)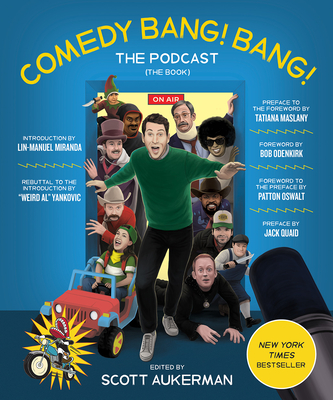 Description
---
***A NEW YORK TIMES BESTSELLER!***

From Scott Aukerman and the comedic geniuses who created the Comedy Bang! Bang! podcast comes a book that brings the chaotic, hilarious, and outrageous characters of the pod to the page

In Comedy Bang! Bang!: The Podcast: The Book, Scott Aukerman transports readers inside the zany world of the Comedy Bang! Bang! podcast. The book features brand-new anecdotes and opinions from the show's wild cast of recurring characters, and matches the show in tone and wackiness, with essays, lists, plays, nods to running bits, and four-color illustrations throughout, helping to bring the zany, satirical, undefinable world of Comedy Bang! Bang! to life in new and surprising ways!

The book is curated by Aukerman and includes introductions, forewords, and prefaces by legends Patton Oswalt, Lin-Manuel Miranda, Bob Odinkirk, Tatiana Maslany, "Weird Al" Yankovic, and Jack Quaid. It also features pieces from Bobby Moynihan, Paul F. Thompkins, Ben Schwartz, Mary Holland, Andy Daly, Lauren Lapkis, Paul Brittain, Jessica McKenna, Ego Nwodim, and many more, all reprising roles of characters they've created for the podcast, taking readers even deeper inside the lives of these off-the-wall personalities. If you've ever enjoyed a Solo Bolo or wondered what makes Bob Ducca tick, this book is chock full of inside jokes, character studies, and hilarity!



About the Author
---
Scott Aukerman is the host of Comedy Bang! Bang!, which celebrates its 14th anniversary this year. He is the co-creator and director of the web series Between Two Ferns with Zach Galifianakis, which was expanded into a feature film for Netflix. Aukerman created, hosted, wrote, and produced the parody talk show Comedy Bang! Bang!, which aired on IFC for five seasons. He began his career as a writer and performer on the HBO sketch comedy Mr. Show with Bob and David.
Praise For…
---
"Comedy Bang! Bang! is to podcasts what roasted turkey is to lunch meat. This book is to reading what underpants are to daydreams." —JON HAMM

"Everything you'd want in a CBB book: chapters, pages, words, letters, pictures, syllables, winks, gravy, live bees, and, of course, Scott's signature dance! I'm going to read it five more times then go back to sleep."—ADAM SCOTT

"I look forward to reading this book. Or at least scanning it for my name. In all honesty, I probably won't read it." —ZACH GALIFIANAKIS

"Scott has the most interesting guests, including a guy named Paul F. Tompkins. I've never met him, but everyone says we'd really get along." —GILLIAN JACOBS

"I'm feeling a tremendous amount of pressure to write something hilarious about this hilarious book. . . . I've got nothing! But it's hilarious!!"—JACK BLACK

"Scott's a friend. I met him in kindergarten. (He dropped out of school right after that.) I want to preserve my friendship with him, so: I think the book is unbelievable!" —PAUL REUBENS

"The Comedy Bang! Bang! book is far better than I expected it to be. Like, when Scott said I had to do a blurb, I kind of dreaded it, but then I actually skimmed it and was like, Holy shit, Aukerman did the work on this one."—THOMAS LENNON

"I am scared of how hilarious this book might be. If I'm found dead anytime soon, look to see if this tome is near my lifeless hands and avenge me." —EDGAR WRIGHT

"Impressive . . . Aukerman and his gang of high-powered friends and contributors can tell a funny story. Devotees will love the origin stories and comedy bits from the series' beloved characters, and the collection's creative structure may land the show some new fans as well."—KIRKUS REVIEWS