The Stranger in the Woods: The Extraordinary Story of the Last True Hermit (Large Print / Library Binding)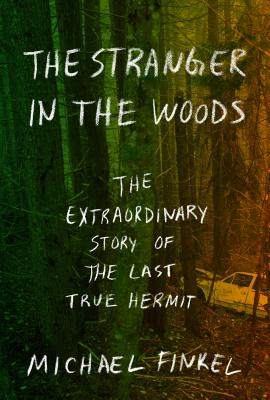 $41.39
This title is likely Out of Print or otherwise unavailable
March 2017 Indie Next List
---
"This is the fascinating true story of Christopher Knight, who lived in the Maine woods for 27 years and survived by stealing supplies from vacation cabins while living in extreme conditions to avoid detection. After more than 1,000 burglaries, he was finally caught and partially reintegrated into society. His story is told together with the history of hermits and those who have sought solitude in order to have insight. Chris defies psychological profiling, and it's amazing Finkel was even able to interview him to write this book. This level of solitude would drive most people insane, but for Chris, it seems like an almost pure contemplative state. An excellent read."
— Todd Miller, Arcadia Books, Spring Green, WI
Summer 2018 Reading Group Indie Next List
---
"At 20 years old, Chris Knight drove into the Maine woods as far as his gas tank would take him, got out, threw his keys on the center console, walked into the forest, and lived in solitude for the next 27 years. While the story is largely the reader's voyeuristic look at how he survived, this book is really an interesting commentary on introversion at its most extreme and its effects on an individual, a family, and society. It's a fascinating read with references from history, philosophy, and psychology that don't bog down the intensity of the story, which reads like a novel."
— Jessica Perez , University Book Store (Mill Creek), Mill Creek, WA
Description
---
For readers of Jon Krakauer and The Lost City of Z, a remarkable tale of survival and solitude--the true story of a man who lived alone in a tent in the Maine woods, never talking to another person and surviving by stealing supplies from nearby cabins for twenty-seven years.
In 1986, twenty-year-old Christopher Knight left his home in Massachusetts, drove to Maine, and disappeared into the woods. He would not have a conversation with another human being until nearly three decades later when he was arrested for stealing food. Living in a tent even in winter, he had survived by his wits and courage, developing ingenious ways to store food and water, to avoid freezing to death. He broke into nearby cottages for food, clothes, reading material, and other provisions, taking only what he needed, but terrifying a community never able to solve the mysterious burglaries. Based on extensive interviews with Knight himself, this is a vividly detailed account of the why and how of his secluded life--as well as the challenges he has faced returning to the world. A riveting story of survival that asks fundamental questions about solitude, community, and what makes a good life, and a deeply moving portrait of a man who was determined to live his own way, and succeeded.
About the Author
---
MICHAEL FINKEL is the author of True Story: Murder, Memoir, Mea Culpa, which was adapted into a 2015 major motion picture. He has written for National Geographic, GQ, Rolling Stone, Esquire, Vanity Fair, The Atlantic, and The New York Times Magazine. He lives in western Montana.