The Ketamine Breakthrough: How to Find Freedom from Depression, Lift Anxiety, and Open Up to a New World of Possibilities (Paperback)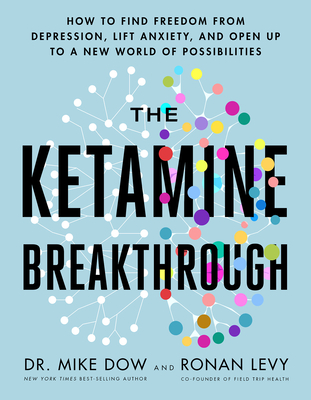 Description
---
New York Times best-selling author Dr. Mike Dow and Ronan Levy, founder of Field Trip, the world's largest provider of psychedelic-assisted psychotherapies, offer ways to integrate ketamine into treatment for depression, anxiety, PTSD, and more.

It's been described as the most important breakthrough in mental health since the introduction of Prozac in 1986. And though once considered taboo, the psychedelic compound, ketamine, is experiencing a spectacular therapeutic comeback.

When combined with psychotherapy, ketamine, which has been described as the being possibly the "most important breakthrough in antidepressant treatment in decades," has the potential to treat depression, anxiety, PTSD, and other debilitating mental illnesses—and change lives.

Unlike antidepressants, which merely mask the pain, psychedelics that heal the brain are the future. Instead of putting Band-Aids on the brain, with Ketamine Assisted-Psychotherapy, you can actually repair the neurological damage caused by stress, anxiety, neglect, and abuse.

In this book, best-selling author Dr. Mike Dow and Field Trip co-founder Ronan Levy provide a broad overview of where KAP came from, how it works, who it works for, and what to expect. More importantly, The Ketamine Breakthrough gives specific protocols for both practitioners and patients to follow in their work with KAP.

This book contains hope for those diagnosed with treatment-resistant depression, plagued by trauma and frozen by fears. Ketamine-assisted psychotherapy has also proven effective for people with drug, alcohol, and behavioral addictions, existential depression, grief, and just feeling stuck. People with unresolved resentments, anger, and the everyday anxieties of modern life will also benefit. Ketamine-assisted psychotherapy has been enormously helpful with couples, groups, and veterans, which will be addressed in the book as well.

This is the go-to manual for therapists and anyone who wants to learn more about Ketamine-Assisted Psychotherapy. For those undergoing this revolutionary protocol, it includes a session-by-session Ketamine-Assisted Psychotherapy Workbook to enhance and deepen the treatment.
About the Author
---
Dr. Mike Dow, Psy.D., Ph.D., is a New York Times best-selling author and is America's go-to therapist. As a brain health, mental health, relationship, and addiction expert, Dr. Mike has hosted hit shows on several networks including TLC, Disney+, E! and VH1. He wasa core team expert on The Dr. Oz Show, a recurring guest co-host on The Doctors, and has made regular appearances on Today, The Talk, Rachael Ray, Wendy Williams, Nancy Grace,Dr. Drew on Call and Canada's The Marilyn Denis Show. Dr. Mike began his career working with the Los Angeles Department of Mental Health before transitioning to private practice. He has a M.S. in Marriage and Family Therapy, a Psy.D. in Psychology, and a Ph.D. in Clinical Sexology. He is a graduate of USC where he was a Presidential Scholar and currently practices Ketamine-Assisted Psychotherapy at Field Trip.

Inspired by his own journey of personal growth, Ronan Levy co-founded Field Trip Health Ltd. (NASDAQ: FTRP, TSX: FTRP), the world's largest provider of psychedelic-assisted therapies, in 2019. Ronan's entrepreneurial endeavours in health and wellness have been seen on or featured in The New York Times, CNBC, Forbes, Cheddar, Yahoo!, Bloomberg, Fast Company, Report on Business, Robb Report, The Economist, Science and more. He is the host of the leading psychedelic podcast, Field Tripping, Executive Producer of the documentary Ordinary Trip and Co-author of The Trip Journal (Presentation Publishing). Trained and qualified as a lawyer, Ronan started his career as a securities lawyer at Blake, Cassels & Graydon LLP but left after realizing he was much too creative for the profession of law. He holds a Juris Doctor and a Bachelor of Commerce degree, both from the University of Toronto.
Praise For…
---
Integrative medicine addresses mind, body, and spirit. The Ketamine Breakthrough's blueprint provides readers an opportunity for healing that is truly integrative. - Andrew Weil, M.D. #1 New York Times best-selling author of 8 Weeks to Optimal Health

The world needs more people who are led by Self. The Ketamine Breakthrough is for anyone who is ready to make this powerful shift. The protocol outlined in this book will help you greet all the parts of yourself with compassion and, by doing so, can help you to feel more whole. - Dr. Richard Schwartz, author of No Bad Parts, founder of Internal Family Systems

Our tools for treating the virtual epidemic of mood disorders, including depression and anxiety, are profoundly limited. The Ketamine Breakthrough takes us to the leading edge of an exciting, new, and effective approach for these and other mental disorders—a therapy that is so desperately needed. This book provides an empowering revelation not just in terms of the scope of the problem, but also in terms of the promise for recovery. - David Perlmutter, M.D., #1 New York Times best-selling author, author of Drop Acid, board-certified neurologist

I highly recommend The Ketamine Breakthrough for anyone who is looking to target the cause of mental illness at its root. - J.J. Virgin, New York Times best-selling author of The Virgin Diet

Nationally recognized psychotherapist Dr. Mike Dow is always at the forefront of supporting the nation's mental health. The Ketamine Breakthrough is a must-read for anyone looking for a holistic and integrative approach to mental illness. I give it my highest recommendation. - Anthony Youn, M.D., F.A.C.S., America's Holistic Plastic Surgeon® and author of The Age Fix

Dr. Mike Dow is on the forefront of mental health and this book is 'the' megaphone that will lead this revolution, not only in mental health but health in general. In The Ketamine Breakthrough, Dr. Dow breaks down the barriers and opens the door to improved psychological and physical health. The question is, 'Will you take the first step?' - Shawn Tassone, M.D., Ph.D., America's Holistic Gynecologist and international best-selling author of The Hormone Balance Bible

The Ketamine Breakthrough is a must-read for forward-thinking people who want to understand and heal the root cause of disease. - Kellyann Petrucci, M.S., N.D., New York Times best-selling author of The Bone Broth Diet

The Ketamine Breakthrough is for anyone who is looking for a deep, spiritual solution to feeling stuck in their lives. If your intuition tells you a deeper path is waiting for you, this book is for you. - Sonia Choquette, New York Times best-selling author, Trust Your Guides

The spiritual tradition of using psychedelics to heal and grow has been around for millennia. The Ketamine Breakthrough brings the wisdom of shamans to modern societies—at a time when they need this ancient wisdom the most. - Dr. Alberto Villoldo, founder of The Four Winds Society, best-selling author of Grow a New Body and Shaman, Healer, Sage

Working with Dr. Mike has helped me heal childhood traumas that have affected my adult life. I'm passionate about Ketamine-Assisted Psychotherapy and highly recommend it to my fellow trauma survivors out there. You are not alone. - Tyler Baltierra, author of Conquering Chaos and star of MTV's Teen Mom

This must-read book brilliantly explores a groundbreaking treatment option that is revolutionizing the way clinicians approach certain medical conditions. - Nita Landry, M.D., FACOG, author of Dr. Nita's Crash Course For Women and cohost of The Doctors

This book is an incredible and enlightening deep dive into Ketamine-Assisted Psychotherapy, a practice that has personally changed my life. For the psychedelic skeptics, this is your guy! Dr. Dow is as educated on psychedelics as they come, and he answers all of your questions and removes your doubts in this wonderful book. And for the spiritual seekers who are ready to explore the contents of their souls, this is absolutely your guy. I can personally speak to the magic of Dr. Dow's soul, because I have journeyed in Ketamine-Assisted Psychotherapy sessions with him as my guide. I will forever have an overflowing love and gratitude inside of me for the healing he has brought into my life. I hope this book will change your life as much as his healing has changed and influenced mine. - Jordan Younger, founder of The Balanced Blonde, host of top-rated podcast Soul on Fire, and author of Breaking Vegan