The Greenlanders (Paperback)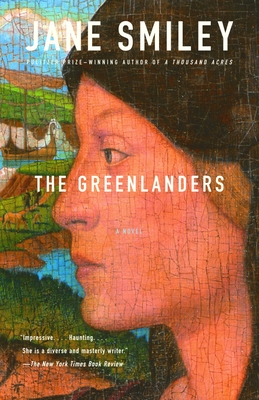 Description
---
From the Pulitzer Prize-winning author of A Thousand Acres—and "a diverse and masterly writer" (The New York Times Book Review)—comes an enthralling epic tale, written in the tradition of the old Norse sagas, that takes us to fourteenth-century Greenland and tells the story of a proud landowner and his unforgettable family. 

Jane Smiley brings us to a farflung place of glittering fjords, blasting winds, sun-warmed meadows, and high, dark mountains. This is the story of one family: proud landowner Asgeir Gunnarsson; his daughter Margret, whose willful independence leads her into passionate adultery and exile; and his son Gunnar, whose quest for knowledge is at the compelling center of this unforgettable book. Jane Smiley immerses us in this world of farmers, priests, and lawspeakers, of hunts and feasts and long-standing feuds, and by an act of literary magic, makes a remote time, place, and people not only real but dear to us.
About the Author
---
JANE SMILEY is the author of numerous novels, including A Thousand Acres, which was awarded the Pulitzer Prize, and most recently, Golden Age, the concluding volume of The Last Hundred Years trilogy. She is also the author of five works of nonfiction and a series of books for young adults. A member of the American Academy of Arts and Letters, she has also received the PEN Center USA Lifetime Achievement Award for Literature. She lives in Northern California.
Praise For…
---
"Impressive.... Haunting.... She is a diverse and masterly writer." —The New York Times Book Review

"An epic masterpiece.... Spellbinding." —Newsday

"A sprawling, multi-generational, heroic Norse narrative." —Chicago Tribune

"Totally compelling.... Fascinating.... In the manner of the big books of the nineteenth century, in which complex family and community matters unravel—Dickens, Dumas, Tolstoy—The Greenlanders sweeps the reader along.... Smiley is a true storyteller." —The Washington Post