Thunderstruck (Hardcover)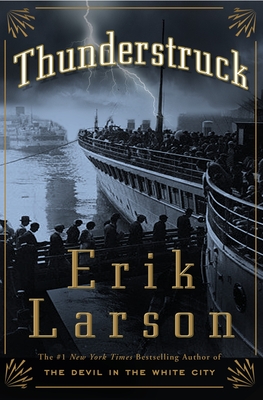 $30.00

Available from our Distributors - Usually arrives in-store in 2-7 days
Description
---
A true story of love, murder, and the end of the world's "great hush."

In Thunderstruck, Erik Larson tells the interwoven stories of two men—Hawley Crippen, a very unlikely murderer, and Guglielmo Marconi, the obsessive creator of a seemingly supernatural means of communication—whose lives intersect during one of the greatest criminal chases of all time.

Set in Edwardian London and on the stormy coasts of Cornwall, Cape Cod, and Nova Scotia, Thunderstruck evokes the dynamism of those years when great shipping companies competed to build the biggest, fastest ocean liners; scientific advances dazzled the public with visions of a world transformed; and the rich outdid one another with ostentatious displays of wealth. Against this background, Marconi races against incredible odds and relentless skepticism to perfect his invention: the wireless, a prime catalyst for the emergence of the world we know today. Meanwhile, Crippen, "the kindest of men," nearly commits the perfect murder.

With his unparalleled narrative skills, Erik Larson guides us through a relentlessly suspenseful chase over the waters of the North Atlantic. Along the way, he tells of a sad and tragic love affair that was described on the front pages of newspapers around the world, a chief inspector who found himself strangely sympathetic to the killer and his lover, and a driven and compelling inventor who transformed the way we communicate.
About the Author
---
Erik Larson is the author of six New York Times bestsellers, most recently The Splendid and the Vile: A Saga of Churchill, Family, and Defiance During the Blitz, which examines how Winston Churchill and his "Secret Circle" went about surviving the German air campaign of 1940-41. Larson's The Devil in the White City is set to be a Hulu limited series; his In the Garden of Beasts is under option by Tom Hanks for a feature film. He recently published an audio-original ghost story, No One Goes Alone, which has been optioned by Chernin Entertainment, in association with Netflix. His Thunderstruck has been optioned by Sony Pictures Television for a limited TV series. Larson lives in Manhattan with his wife, who is a writer and retired neonatologist; they have three grown daughters.
Praise For…
---
"Larson's gift for rendering an historical era with vibrant tactility and filling it with surprising personalities makes Thunderstruck an irresistible tale...He beautifully captures the awe that greeted early wireless transmissions on shipboard...he restores life to this fascinating, long-lost world."- Washington Post "Of all the non-fiction writers working today, Erik Larson seems to have the most delicious fun...for his newest, destined-to-delight book, Thunderstruck, Larson has turned his sights on Edwardian London, a place alive with new science and seances, anonymous crowds and some stunningly peculiar personalities"-- Chicago Tribune"[Larson] interweaves gripping storylines about a cryptic murderer and the race for technology in the early 20th century. An edge-of-the-seat read."-- People"Captivating...with Thunderstruck, Larson has selected another enthralling tale--two of them, actually--...[he] peppers the narrative with an engaging array of secondary figures and fills the margins with rich tangential period details...Larson has once again crafted a popular history narrative that is stylistically closer to a smartly plotted novel."--Miami Herald"As he did with The Devil in the White City, Larson has created an intense, intelligent page turner that shows how the march of progress and innovation affect both the world at large and the lives of everyday people."--Atlanta Journal-Constitution"Larson's gift for rendering an historical era with vibrant tactility and filling it with surprising personalities makes Thunderstruck an irresistible tale."--The Washington Post Book World"An enthralling narrative and vivid descriptions...Larson has done a marvelous job of bringing the distinct stories together in his own unique way. Simply fantastic!"--Library Journal"Larson is a marvelous writer...superb at creating characters with a few short strokes."--The New York Times Book Review"Splendid, beautifully written...Thunderstruck triumphantly resurrects the spirit of another age, when one man's public genius linked the world, while another's private turmoil made him a symbol of the end of "the great hush" and the first victim of a new era when instant communication, now inescapable, conquered the world."--Publishers Weekly"[Larson] captures the human capacity for wonder at the turn of the century...[he] has perfected a narrative form of his own invention."--The Plain Dealer (Cleveland)THUNDERSTRUCK • By Erik Larson • Three Rivers Press • ISBN 978-1-4000-8067-0 • $14.95 • • By Erik Larson • Three Rivers Press • ISBN 978-1-4000-8067-0 • $14.95 • OSD 9/25/2007THUNDERSTRUCK • By Erik Larson • Three Rivers Press • ISBN 978-1-4000-8067-0 • $14.95 • OSD 9/25/2007