At Weddings and Wakes: A Novel (Paperback)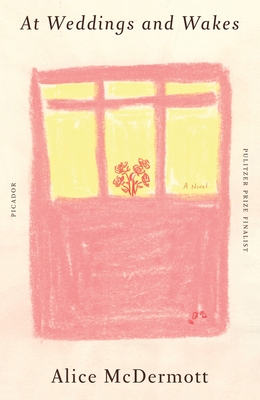 Description
---
Pulitzer Prize finalist At Weddings and Wakes is "a brilliant, highly complex, extraordinary piece of fiction" (Chicago Tribune)

Lucy Dailey leaves suburbia twice a week with her three children in tow, returning to the Brooklyn home where she grew up, and where her stepmother and unmarried sisters still live. The children quietly observe Aunt Veronica, who drowns her sorrows in drink, Aunt Agnes, a caustic career woman, and finally Aunt May, the ex-nun, blossoming with a late and unexpected love, dutifully absorbing the legacy of their less-than-perfect family. Alice McDermott beautifully evokes three generations of an Irish-American family in this "haunting and masterly work of literary art" (The Wall Street Journal).
About the Author
---
Alice McDermott is the author of several novels, including The Ninth Hour; Someone; After This; Child of My Heart; Charming Billy, winner of the 1998 National Book Award; and At Weddings and Wakes—all published by FSG. That Night, At Weddings and Wakes, and After This were all finalists for the Pulitzer Prize. Her stories and essays have appeared in The New York Times, The Washington Post, The New Yorker, Harper's Magazine, and elsewhere. For more than two decades she was the Richard A. Macksey Professor of the Humanities at Johns Hopkins University and a member of the faculty at the Sewanee Writers Conference. McDermott lives with her family outside Washington, D.C.
Praise For…
---
"As rendered through Ms. McDermott's rich, supple prose, and infused with her quiet, emotional wisdom, the story of these three children and their family assumes a kind of mythic resonance: it becomes a parable about all families and all families' encounters with love, mortality and sorrow." —The New York Times

"A brilliant, highly complex, extraordinary piece of fiction and a triumph for its author." —Chicago Tribune

"McDermott's novels can't be relegated to plot or thematic conceit. It is the sweep of her sentences, many of them as luxurious and sure of themselves as a cat stretching in the sun. And it is the remarkable microscopic attention to humanity—the private gestures and tell-tale routines that make us who we are." —The Boston Sunday Globe