Boys in the Valley (Hardcover)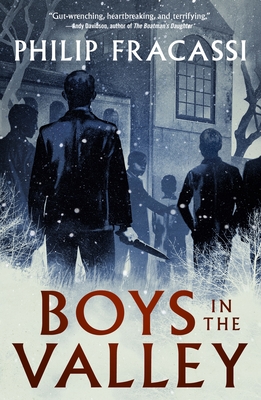 Description
---
"Old-school horror." ―Stephen King

The Exorcist meets Lord of the Flies, by way of Midnight Mass, in Boys in the Valley, a brilliant coming-of-age tale from award-winning author Philip Fracassi.

"A sublimely chilling story." —Library Journal, STARRED review

St. Vincent's Orphanage for Boys.

Early twentieth century, in a remote valley in Pennsylvania.

Here, under the watchful eyes of several priests, thirty boys work, learn, and worship. Peter Barlow, orphaned as a child by a gruesome murder, has made a new life here. As he approaches adulthood, he has friends, a future...a family.

Then, late one stormy night, a group of men arrive at their door, one of whom is badly wounded, occult symbols carved into his flesh. His death releases an ancient evil that spreads like sickness, infecting St. Vincent's and the children within. Soon, boys begin acting differently, forming groups. Taking sides.

Others turn up dead.

Now Peter and those dear to him must choose sides of their own, each of them knowing their lives — and perhaps their eternal souls — are at risk.
About the Author
---
PHILIP FRACASSI is the Bram Stoker Award-nominated author of the story collections Behold the Void and Beneath a Pale Sky. His novels include A Child Alone with Strangers, Gothic, and Boys in the Valley. His stories have been published in numerous magazines and anthologies, including Best Horror of the Year, Nightmare Magazine, Southwest Review, Interzone, and Black Static. Philip lives in Los Angeles and is represented by Copps Literary Services.
Praise For…
---
Praise for Boys in the Valley

"Old-school horror." —Stephen King

"The prose is precise, the terror's exquisite, and Fracassi's got his hand on the chisel going into your chest." —Stephen Graham Jones, New York Times bestselling author of My Heart Is a Chainsaw

"A sublimely chilling story….Fracassi almost cheerfully paints this gloomy tale with painfully beautiful and detailed prose that is not afraid to shy away from gore and terror." —Library Journal, STARRED review

"Gut-wrenching, heartbreaking, and terrifying." —Andy Davidson, author of The Hollow Kind

"As poignant as it is chilling, with a fast-paced, unflinching ending, it's the richly drawn characters that make Boys in the Valley a standout." —Alma Katsu, author of The Fervor and The Hunger

"A riveting, and horrifying, tale of survival set against a punishing and vivid backdrop. Think William Peter Blatty and William Golding blended together…but still the insights and angles are all Philip Fracassi." —Victor LaValle, author of The Ballad of Black Tom

"Harrowing and claustrophobic, Boys in the Valley is an outstanding horror novel, filled with dread. You can feel the evil in this story, soaked into every page. One hell of a read from Philip Fracassi!" —Christopher Golden, New York Times bestselling author of Road of Bones and All Hallows

"Boys in the Valley is cruel, creepy, and keeps the pedal to the metal. An unrelenting and highly entertaining show of horrors." —Thomas Olde Heuvelt, author of Hex and Echo

"Perfectly paced, elevated horror. Fracassi is required reading for the genre and beyond. A bellwether of what's to come." —Jonathan Edward Durham, author of Winterset Hollow

"This is not only a smart and deftly-written tale instilled with the kind of creeping, claustrophobic horror that I enjoy—Fracassi's got real love for his characters: you truly care about his motley band of boys, and their fates." —Nick Cutter, bestselling author of The Troop

"This brooding tale of old school terror...will inspire faith in Fracassi's undeniable ability to draw you into a bleak world that is worth exploring—and returning to—even after the blood on the altar has dried." —Rue Morgue

"Philip Fracassi amazes and inspires me. Full stop." —Gemma Files, Shirley Jackson Award-winning author

"A gothic, gory Lord of the Flies…The horror here is as much a warning on the dangers of human corruption as a testament to hope in the face of nigh-insurmountable darkness…Horror readers will be hooked." —Publishers Weekly

"Fracassi's tale casts a black spell...exploring the limits of faith, the bonds of brotherhood, the loss of childhood, and the extremes of evil." —J. Todd Scott, author of The Flock

"The most unsettling novel I have read all year. Cold dread clings to every page." —Ronald Malfi, author of Black Mouth

"A tale that will truly frighten, unnerve, and touch readers' hearts…a beautiful novel that should be — will likely be — remembered as one of the best of the young decade." —Cemetery Dance Online

"Fast-paced, relentless, and chilling without ever neglecting the human side of the proceedings. This is pure horror that should satisfy any fan of the genre." —Jeffrey Thomas, author of The American

Praise for Philip Fracassi:

"Fracassi makes terror read so damn beautifully." —Victor LaValle

"Fracassi...builds his horrific tales slowly and carefully...he's especially skillful at creating, and sustaining, suspense." —The New York Times

"This Fracassi guy is damn good." —Richard Chizmar, New York Times bestselling author

"Philip Fracassi's fiction is a mix of old and new school horrors, chock full of frightening monsters, demons, and humans. I always look forward to what he's going to do next." —Paul Tremblay, author of The Pallbearers Club

"Fracassi...brings a depth of understanding to his monsters, human and otherwise." —The Guardian

"Fracassi's storytelling is...horror with a big, broken heart." —Esquire

"Philip Fracassi is the best sort of horror writer—one who is unafraid to hunt for light in even the darkest places." —Shaun Hamill, author of A Cosmology of Monsters

"Philip Fracassi is an artist who paints with words…timeless and original." —Zoje Stage, USA Today bestselling author of Baby Teeth

"A master storyteller." —Jonathan Janz, author of The Siren and the Spectre

"His range, prolific output, and fast-paced prose are all set to put him on the shelf next to names such as King, Straub, and Thomas Harris." —Signal Horizon