The Tusks of Extinction (Hardcover)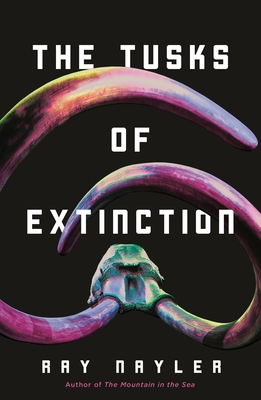 $26.99

Coming Soon - Available for Pre-Order Now - Please check release date!
Description
---
When you bring back a long-extinct species, there's more to success than the DNA.

Moscow has resurrected the mammoth. But someone must teach them how to be mammoths, or they are doomed to die out again.

Dr. Damira Khismatullina, an expert in elephant behavior, was brutally murdered trying to defend the world's last elephants from the brutal ivory trade. Now, her digitized consciousness has been downloaded into the mind of a mammoth.

As the herd's new matriarch, can Damira help fend off poachers long enough for the species to take hold? Or will her own ghosts, and Moscow's real reason for bringing the mammoth back, doom them to a new extinction?

A tense SF thriller from a new master of the genre.
About the Author
---
Ray Nayler is the author of the critically acclaimed novel The Mountain in the Sea. Called "one of the up-and-coming masters of SF short fiction" by Locus, Nayler's stories have been published in Asimov's Science Fiction, Clarkesworld, Analog Science Fiction & Fact, The Magazine of Fantasy & Science Fiction, Lightspeed, Vice, and Nightmare, as well as in many "Best Of" anthologies. His stories have won the Clarkesworld Readers' Poll and the Asimov's Readers' Award, and his novelette "Sarcophagus" was a finalist for the Theodore Sturgeon Award.

Born in Quebec and raised in California, Nayler lived and worked abroad for two decades in Russia, Turkmenistan, Tajikistan, Kazakhstan, Kyrgyzstan, Afghanistan, Azerbaijan, Vietnam, and Kosovo. A Russian speaker, he has also learned Turkmen, Albanian, Azerbaijani, and Vietnamese. He is currently a visiting scholar at the Institute for International Science and Technology Policy at The George Washington University's Elliott School of International Affairs. He holds an MA in global diplomacy from the Centre for International Studies and Diplomacy at SOAS University of London. His novella The Tusks of Extinction will be published by Tor.com in January of 2024.
Praise For…
---
"Impassioned and impressive…an uncompromising climate fiction that strikes like a spear to the gut." —Publishers Weekly

"Fans of biology-inspired sf will enjoy this short novel about human greed, the beauty of mammoths, and one human's consuming fury." —Booklist

Praise for The Mountain in the Sea

"I loved this novel's brain and heart, its hidden traps, sheer propulsion, ingenious world-building, and purity of commitment to luminous ideas." —David Mitchell, New York Times bestselling author of Cloud Atlas

"The Mountain in the Sea is a first-rate speculative thriller, by turns fascinating, brutal, powerful, and redemptive." —Jeff VanderMeer, author of Annihilation

"The Mountain in the Sea is a wildly original, gorgeously written, unputdownable gem of a novel. Ray Nayler is one of the most exciting new voices I've read in years." —Blake Crouch, author of Upgrade and Dark Matter

"I came to The Mountain in the Sea for the cephalopods (I love cephalopods), but I stayed for the fascinating meditation on consciousness and personhood. I loved this book."
—Ann Leckie, author of Ancillary Justice

"A novel that is alert, intelligent, open." —Nicole Flattery, The New York Times

"[A] staggering book . . . [The Mountain in the Sea] has the clothes of a futuristic, eco-punk or cyberpunk thriller, the guts of a philosophy seminar and the soul of a religious tract."
—Phillip Ball, New Scientist

"Nayler's masterful debut combines fascinating science and well-wrought characters to deliver a deep dive into the nature of intelligent life . . . As entertaining as it is intellectually rigorous, this taut exploration of human—and inhuman—consciousness is a knockout."
—Publishers Weekly, starred review

"Less a science-fiction adventure than a meditation on consciousness and self-awareness, the limitations of human language, and the reasons for those limitations, the novel teaches as it engages." —Kirkus Reviews

"Exciting, cerebral, and surprisingly compassionate, The Mountain in the Sea shines a light on the importance of our fragile ecosystem. Read this riveting novel if you love fresh takes on science fiction or you're just fascinated by the mysteries of nature."
—Apple Books