The Saint of Bright Doors (Hardcover)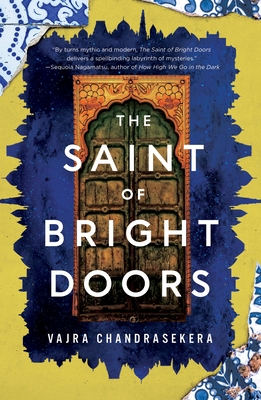 Description
---
A 2023 New York Times Notable Book

"The best book I've read all year. Protean, singular, original." —Amal El-Mohtar for The New York Times

The Saint of Bright Doors sets the high drama of divine revolutionaries and transcendent cults against the mundane struggles of modern life, resulting in a novel that is revelatory and resonant.

Fetter was raised to kill, honed as a knife to cut down his sainted father. This gave him plenty to talk about in therapy.

He walked among invisible powers: devils and anti-gods that mock the mortal form. He learned a lethal catechism, lost his shadow, and gained a habit for secrecy. After a blood-soaked childhood, Fetter escaped his rural hometown for the big city, and fell into a broader world where divine destinies are a dime a dozen.

Everything in Luriat is more than it seems. Group therapy is recruitment for a revolutionary cadre. Junk email hints at the arrival of a god. Every door is laden with potential, and once closed may never open again. The city is scattered with Bright Doors, looming portals through which a cold wind blows. In this unknowable metropolis, Fetter will discover what kind of man he is, and his discovery will rewrite the world.
About the Author
---
Vajra Chandrasekera is from Colombo, Sri Lanka. His debut novel The Saint of Bright Doors was a New York Times Notable Book of 2023, and his short fiction, anthologized in The Apex Book of World SF, The Gollancz Book of South Asian Science Fiction, and The Best Science Fiction of the Year among others, has been nominated for the Theodore Sturgeon Memorial Award.
Praise For…
---
A New York Times Notable Book and Best Fantasy of 2023!

"Protean, nimble, dazzlingly original, The Saint of Bright Doors offers a grammar for comprehending the knots of atrocity we're living through, without resorting to the blunt simplicity of allegory." —Amal El-Mohtar for the New York Times

"Riveting, surreal, clever and wise and all-too real—a breathtaking achievement." —Max Gladstone, New York Times bestselling co-author of This Is How You Lose the Time War

"Truly superb books – ones that are complete, that are organic, that invite themselves into your brain fully formed and transport you somewhere else, that leave you humming and staring and obsessed, that leave characters and images and ideas hard-printed among your own memories – are hard to talk about. It's hard to talk about Vajra Chandrasekera's The Saint of Bright Doors." —Locus

"Quietly masterful on a prose level, this novel is doing so much so well….One of the most satisfying novels, in any genre, that I've encountered in quite some time." –Chicago Review of Books

"The Saint of Bright Doors is an inspired and dreamy book that follows a hero growing into the role he was always meant to inhabit, with an unexpected ending that answered all my questions from the first chapter. I truly can't wait to see what Mr. Chandrasekera does next." —Liz Braswell, The Wall Street Journal

"Chandrasekera builds a dizzyingly complex world, with enough ideas for ten books, and it's all entertaining enough that his theme — the dangers of religious extremism paired with racist totalitarianism — sneaks up on you." —Charlie Jane Anders for The Washington Post

"By turns mythic and modern, The Saint of Bright Doors delivers a spellbinding labyrinth of mysteries...A hypnotic and intricate debut." —Sequoia Nagamatsu, bestselling author of How High We Go in the Dark

"I've never seen a fantasy world like this, and I've never met a hero like Fetter. Both will haunt me for a long, long time. Keeps on dropping bombs and surprises and brilliance and heartbreak to the very end." —Sam J. Miller, author of Blackfish City

"A book that explores how marvelously and brutally humanity remakes the world." —Indrapramit Das, author of The Devourers

"Layered, lush and lyrical, at once wholly original and unmistakably South Asian. A fascinating debut from a thunderous talent." —Samit Basu, author of The City Inside

"The Saint of Bright Doors will slip a knife into you the way only the best literature does. It's the kind of book that makes you a better thinker and a better feeler, even if it's at the cost of making you a little more haunted." —Natalia Theodoridou, World Fantasy Award-winning author

"Weirder than Miéville, as deeply humane and philosophical as Le Guin, The Saint of Bright Doors is a tale of belief and myth and story and grief layered with the dense, brilliant luminosity of an oil painting." —Premee Mohamed, author of Beneath the Rising

"...the lyrical, precise prose, the original, organic nature of the world building, and the complex themes of purpose, identity, and the biased, often violent, incomplete nature of history-telling will engage readers long after finishing." —Booklist

"Dreamlike and inventive, this unusual novel is a complicated read that ably pairs the mundane with the mystical." —Library Journal

"The Saint of Bright Doors is part of an extraordinary recent burst of anglophone SF writing from Sri Lanka." —Himāl Southasian