All the Hidden Paths (The Tithenai Chronicles #2) (Hardcover)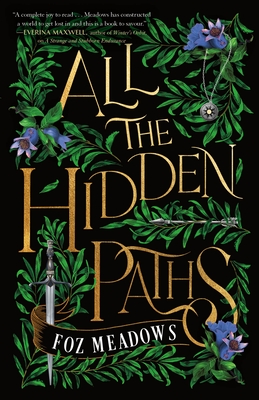 Description
---
The follow-up to Foz Meadows's A Strange and Stubborn Endurance, All the Hidden Paths is a sultry political & romantic fantasy exploring gender, sexuality, identity, and self-worth.

With the plot against them foiled and the city of Qi-Katai in safe hands, newlywed and tentative lovers Velasin and Caethari have just begun to test the waters of their relationship. But the wider political ramifications of their marriage are still playing out across two nations, and all too soon, they're summoned north to Tithena's capital city, Qi-Xihan, to present themselves to its monarch.

With Caethari newly invested as his grandmother's heir and Velasin's old ghosts gnawing at his heels, what little peace they've managed to find is swiftly put to the test. Cae's recent losses have left him racked with grief and guilt, while Vel struggles with the disconnect between instincts that have kept him safe in secrecy and what an open life requires of him now. Pursued by unknown assailants and with Qi-Xihan's court factions jockeying for power, Vel and Cae must use all the skills at their disposal to not only survive, but thrive.

Because there's more than one way to end an alliance, and more than one person who wants to see them fail…and they will resort to murder if needed.
About the Author
---
Foz Meadows is a queer Australian author, essayist, reviewer and poet. They have won two Best Fan Writer awards (a Hugo Award in 2019 and a Ditmar Award in 2017) for yelling on the internet, and have also received the Norma K. Hemming Award in 2018 for their queer Shakespearean novella, Coral Bones. Their essays, reviews, poetry and short fiction have appeared in various venues, including Uncanny, Apex Magazine, Goblin Fruit, HuffPost, and Strange Horizons. Meadows currently lives in California with their family.
Praise For…
---
Praise for All the Hidden Paths

"Compulsively readable, spectacularly queer and beautifully human—this is the kind of book you ignore all responsibilities for!"—Seth Haddon, author of Reforged

"The follow-up to A Strange and Stubborn Endurance continues to grow the richly immersive landscape of these fantasy lands, and the character growth matches the pace."—Library Journal

"Just as pacy and self-assured as the series opener while also embracing the opportunity for a deeper exploration of the sexual politics in this fantasy world. Speaking thoughtfully to real-life questions of identity, and the vulnerability that goes along with visibility, this fantasy adventure wows. "—Publishers Weekly

"Meadows' writing is confident and sexy (even scorching), leaving readers satisfied with the wrap-up of several key relationships and tying a very neat bow on any lingering doubts between the two main characters."—Booklist


Praise for A Strange and Stubborn Endurance:

"Many a reader longing for a sense of homecoming in the realm of romantic fantasy will find it in A Strange and Stubborn Endurance."—Jacqueline Carey, New York Times bestselling author of the Kushiel's Legacy series

"An emotionally gripping, delightful queer fantasy filled with political intrigue, family dynamics, and tender moments that will grab readers' hearts and minds."—Library Journal, starred review

"A complete joy to read. From the love story, to the slow healing of the main character, to the intricate mystery of the plot, Meadows has constructed a world to get lost in and this is a book to savour."—Everina Maxwell, author of Winter's Orbit

"An absolute delight! A perfect balance of romance, fantasy politics, and a truly sinister murder plot. It put me in mind of The Goblin Emperor (earnest but wounded lead characters you can't help rooting for) and Winter's Orbit (queer marriage of convenience with deep sff politics)"—Olivia Waite, award-winning author

"I flew through this book and enjoyed every page of the journey...I loved that this was a gripping political fantasy, but I loved even more that it was wrapped around a stubbornly kindhearted romance."—Freya Marske, author of A Marvellous Light

"An engrossing political intrigue and romance set in a world that feels complex and lived-in; beautifully realised and a pleasure to read!"—Sam Hawke, author of City of Lies

"A satisfying balance of romance and action, with political intrigue that is both elaborate and plausible and rich, fascinating worldbuilding."—Malka Older, award-winning author

"Blending intrigue and queer romance, A Strange and Stubborn Endurance stitches together two cultures and re-embroiders gender conventions. Meadows combines the personal and political through an elegant voice, and finds time for tender moments of healing."—E.J. Beaton, author of The Councillor