Defekt (LitenVerse #2) (Paperback)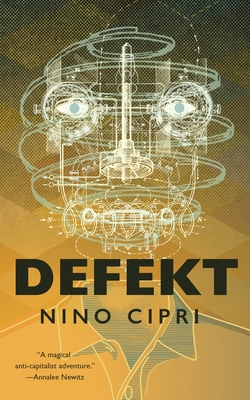 $14.99

Available from our Distributors - Usually arrives in-store in 2-7 days
Other Books in Series
This is book number 2 in the LitenVerse series.
Description
---
Winner of the British Fantasy Award!

Nominated for the Philip K. Dick Award!

Find out if five Dereks are better than one in Nino Cipri's Defekt, the sequel to Finna, the surrealist world-hopping adventure.

Derek is LitenVärld's most loyal employee. He lives and breathes the job, from the moment he wakes up in a converted shipping container at the edge of the parking lot to the second he clocks out of work 18 hours later. But after taking his first ever sick day, his manager calls that loyalty into question. An excellent employee like Derek, an employee made to work at LitenVärld, shouldn't need time off.

To test his commitment to the job, Derek is assigned to a special inventory shift, hunting through the store to find defective products. Toy chests with pincers and eye stalks, ambulatory sleeper sofas, killer mutant toilets, that kind of thing. Helping him is the inventory team — four strangers who look and sound almost exactly like him. Are five Dereks better than one?
About the Author
---
NINO CIPRI is a queer and trans/nonbinary writer, editor, and educator. They are a graduate of the Clarion Writing Workshop and the University of Kansas's MFA program, and author of the award-winning debut fiction collection Homesick (2019) and the novella Finna (2020). Nino has also written plays, poetry, and radio features; performed as a dancer, actor, and puppeteer; and worked as a stagehand, bookseller, bike mechanic, and labor organizer. One time, an angry person on the internet called Nino a verbal terrorist, which was pretty funny.
Praise For…
---
Shortlisted for the British Fantasy Award!

"Cipri continues to mix queer characters and anti-capitalist themes with energetic, bouncy prose. Highly recommended for readers looking for sf with queer protagonists, or who are interested in a short but exciting trip through some dimension-defying showrooms." —Booklist, starred review

Praise for Finna

"Finna is a magical anti-capitalist adventure that crosses dimensions, abolishes gender binaries, and liberates retail workers. Reading it is a goddamn delight." —Annalee Newitz

"Funny as hell, scary as f*ck, and so full of heart I didn't want it to end. A magnificent must-read." —Sam J Miller

"Finna is the most grounded tale of multi-dimensional heartache I could imagine; it is completely and entirely lovely." —Sarah Gailey

"Finna is a book of fantastical impossibilities and biting commentary on the perils of capitalism. But it's also a heartfelt exploration of two people moving apart, only to be forced together in the most nightmarish of circumstances." —Mark Oshiro

"Cipri hits all the right notes in this fantasy novella packed with action and emotion. Part horror, part humor, and all heart, the story uniquely showcases two queer protagonists dealing with their own emotional separation while also being forced to work together." —Library Journal starred review

"The mixture of corporate drudgery and dimension-hopping adventure will hold the reader's attention as well as Ava and Jules' post-break-up foibles do. Recommended for those interested in sf that features queer relationships, minimum-wage labor, and many worlds theory." —Booklist

"A weird novella examining capitalism, class and consumerism, all wrapped up in a scary, funny, and queer AF fantasy that you'll swallow whole. It's super yummy with a potent aftertaste that will (gratefully) stay with you for long after you've put it down." —Ms. Magazine

"A fun, unexpected romp that, in between digs at big box stores and capitalism more generally, delves into questions of family, anxiety, and post-breakup friendship." —Malka Older

"A rip-roaring high-concept adventure story with a steely spine of righteous fury and a heart overflowing with love." —Lara Elena Donnelly

"If you've ever felt lost in the guts of a labyrinthine Swedish furniture store and only prayed to emerge intact, Finna is a must-read. Nino Cipri's cracking debut mixes swashbuckling ship captains, carnivorous alien plants and relationship angst with the soul-deadening reality of a retail job in the hellscape of late capitalism." —JY Yang

"Cipri has written the blue-collar fantasy I've wanted to read for decades, minimum wage and maximum weird." —Meg Elison

"Snappy, hilarious, poignant and fun, Finna is a phenomenally queer adventure into minimum wage retail hell, multiple realities, and interpersonal relationships. Cipri has crafted a beautiful story with humor, weirdness, and empathy." —Merc Finn Wolfmoor