Eagle Drums (Hardcover)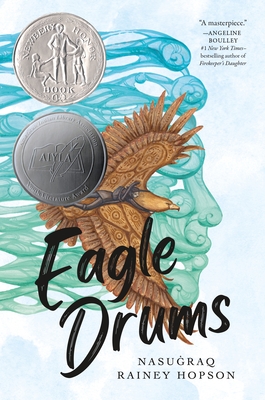 $18.99

Not Yet Published - Please check release date!
Description
---
A magical realistic middle grade debut about the origin story of the Iñupiaq Messenger Feast, a Native Alaskan tradition.

As his family prepares for winter, a young, skilled hunter must travel up the mountain to collect obsidian for knapping—the same mountain where his two older brothers died.

When he reaches the mountaintop, he is immediately confronted by a terrifying eagle god named Savik. Savik gives the boy a choice: follow me or die like your brothers.

What comes next is a harrowing journey to the home of the eagle gods and unexpected lessons on the natural world, the past that shapes us, and the community that binds us.

Eagle Drums is part cultural folklore, part origin myth about the Messenger's Feast – which is still celebrated in times of bounty among the Iñupiaq. It's the story of how Iñupiaq people were given the gift of music, song, dance, community, and everlasting tradition.
About the Author
---
Born and raised in the rural expanse of the North Slope of Alaska, Nasugraq Rainey Hopson grew up on fantastic tales from her unique and rich Indigenous Inupiaq culture. When she is not writing or creating art inspired by these stories, she is studying how to grow food in the arctic and is working at preserving traditional Inupiaq knowledge. She has a degree in Studio Art and has taught all levels of Art from kindergarten to college level. She lives in Anaktuvuk Pass Alaska with her husband and daughter, three dogs, and a small flock of arctic chickens where she lives off the land and the amazing bounty it provides like her ancestors did for thousands of years.