Busted Flush: A Wild Cards Novel (Book Two of the Committee Triad) (Paperback)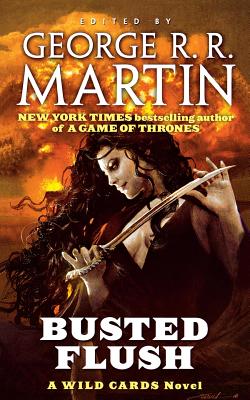 $19.99

Available from our Distributors - Usually arrives in-store in 2-7 days
(This book cannot be returned.)
Other Books in Series
This is book number 19 in the Wild Cards series.
Description
---
Soon to be a show on Hulu!

Rights to develop Wild Cards for TV have been acquired by Universal Cable Productions, the team that brought you The Magicians and Mr. Robot, with the co-editor of Wild Cards, Melinda Snodgrass as executive producer.

In 1946, an alien virus that rewrites human DNA was accidentally unleashed in the skies over New York City. It killed ninety percent of those it infected. Nine percent survived to mutate into tragically deformed creatures. And one percent gained superpowers. The Wild Cards shared-universe series, created and edited since 1987 by New York Times #1 bestseller George R. R. Martin ("The American Tolkien" --Time magazine) along with Melinda Snodgrass, is the tale of the history of the world since then—and of the heroes among the one percent.

Now a new generation of heroes has taken its place on the world stage, its members crucial players in international events. At the United Nations, veteran ace John Fortune has assembled a team of young aces known as the Committee, to assist at trouble spots around the world–including a genocidal war in the Niger Delta, an invasion of zombies in hurricane ravaged New Orleans, and a freak nuclear explosion in a small Texas town.

The Wild Cards Universe
The Original Triad
#1 Wild Cards
#2 Aces High
#3 Jokers Wild

The Puppetman Quartet
#4: Aces Abroad
#5: Down and Dirty
#6: Ace in the Hole
#7: Dead Man's Hand

The Rox Triad
#8: One-Eyed Jacks
#9: Jokertown Shuffle
#10: Dealer's Choice

#11: Double Solitaire
#12: Turn of the Cards

The Card Sharks Triad
#13: Card Sharks
#14: Marked Cards
#15: Black Trump

#16: Deuces Down
#17: Death Draws Five

The Committee Triad
#18: Inside Straight
#19: Busted Flush
#20: Suicide Kings

The Fort Freak Triad
#21: Fort Freak
#22: Lowball
#23: High Stakes

The American Triad
#24: Mississippi Roll
#25: Low Chicago
#26: Texas Hold 'Em
About the Author
---
George R. R. Martin has been a full-time writer for over 25 years. He is the author of the acclaimed, internationally bestselling fantasy series A Song of Ice and Fire, which is the basis of HBO's popular Game of Thrones television series. Martin has won multiple science fiction awards, including 4 Hugos, 2 Nebulas, the Bram Stoker, the Locus Award, the World Fantasy Award, the Daedelus, the Balrog, and the Daikon (Japanese Hugo).

The Wild Cards Trust is the creator of the Wild Cards series.