Midnight Meditations for Moms: Calming Comfort for the Wee Hours (Hardcover)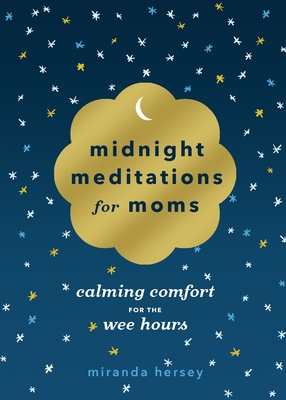 $17.99

On Our Shelves Now - Please call to confirm stock for hot titles
Description
---
Whatever keeps you from sleeping—from a crying newborn to a past-curfew teen, you're not alone in this common bond of motherhood.

Midnight Meditations for Moms brings you understanding and reassurance through short, inspiring thoughts designed to ease you back into sleep and helps you extend kindness and encouragement to yourself as a mom and beyond.

-Calm your mind, body, and heart with soothing meditations.
-Know that you are not alone in these midnight moments.
-Get the rest and self-care you need and deserve.
-Share to support your circle of moms.

With Miranda Hersey's Midnight Meditations for Moms, you can calm those worries in the wee hours, settle back into sleep, and shine for yourself and your loved ones the next day!
About the Author
---
Miranda Hersey is a writer, editor, and certified creativity coach. As a business owner and the mother of five, Miranda is passionate about helping others live deeply satisfying, creative lives. Her work has appeared in the Boston Globe, Boston Globe Magazine, Sun Magazine, and Bay Area Parent, among other publications. A dual national of Britain and the US, in 2014 Miranda moved from Boston, Massachusetts, to Bainbridge Island, Washington, where she is happily overrun with books, people, and animals. She is the author of Life by Design.