Our Kind of Cruelty: A Novel (Paperback)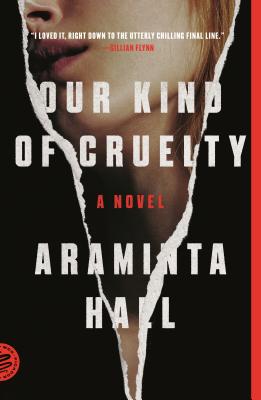 $17.00
On Our Shelves Now - Please call to confirm stock for hot titles
Description
---
"A searing, chilling sliver of perfection . . . May well turn out to be the year's best thriller." —Charles Finch, The New York Times Book Review
"This is simply one of the nastiest and most disturbing thrillers I've read in years. I loved it, right down to the utterly chilling final line." —Gillian Flynn
A spellbinding, darkly twisted novel about desire and obsession, and the complicated lines between truth and perception, Our Kind of Cruelty introduces Araminta Hall, a chilling new voice in psychological suspense.
This is a love story. Mike's love story.
Mike Hayes fought his way out of a brutal childhood and into a quiet, if lonely, life before he met Verity Metcalf. V taught him about love, and in return, Mike has dedicated his life to making her happy. He's found the perfect home, the perfect job; he's sculpted himself into the physical ideal V has always wanted. He knows they'll be blissfully happy together.
It doesn't matter that she hasn't been returning his e-mails or phone calls.
It doesn't matter that she says she's marrying Angus.
It's all just part of the secret game they used to play. If Mike watches V closely, he'll see the signs. If he keeps track of her every move, he'll know just when to come to her rescue . . .
About the Author
---
Araminta Hall has an MA in creative writing and authorship from the University of Sussex, and teaches creative writing at New Writing South in Brighton, where she lives with her husband and three children. She is the author of Our Kind of Cruelty, which was named a best book of 2018 by CrimeReads and Real Simple.
Praise For…
---
A CrimeReads Best Book of 2018
A Real Simple Best Book of 2018

"A searing, chilling sliver of perfection . . . May well turn out to be the year's best thriller." —Charles Finch, The New York Times Book Review

"This is simply one of the nastiest and most disturbing thrillers I've read in years. In short: I loved it, right down to the utterly chilling final line." —Gillian Flynn, author of Gone Girl
"[A] fiendishly clever psychological thriller . . . Hall forces her readers to consider their attitudes to the sexes." —Alison Flood, The Guardian
"The narrator is delusional but charming, and I have absolutely no idea what's going to happen and I'm almost at the end." —Sara Shepard, author of Pretty Little Liars, for Entertainment Weekly
"The best unreliable narrator book I've ever read, and a perfect, terrifying tale of obsession, delusion, and gaslighting." —Molly Odintz, CrimeReads
"Hall's novel is a page-turner with a timely message." —Real Simple
"A seriously twisted story of obsessive attachment . . . If you like sustained discomfort you'll love this one." — Sarah Murdoch, The Toronto Star
"In Hall's impressive novel, sexual role-playing games have dangerous undercurrents . . . While the orchestration of suspense is masterly, Hall's real agenda becomes apparent in a feminist subtext: the way in which female desire is judged more harshly in modern society." —Barry Forshaw, Financial Times
"A story of obsession and self delusion, as well as the pain that intense passion can bring, it is disturbing and thrilling." —Daily Mail
"Thrilling . . . The reader will wrangle over what's real and what's imagined. As a courtroom drama unfurls, readers may be left wondering if their interpretation of events is due to their own biases." —The Irish News
"If you liked The Girl on the Train and Apple Tree Yard you'll love Our Kind of Cruelty . . . A gripping courtroom drama, with a surprising feminist message." —Stylist magazine
"One of the most unsettling books I have read in a while but brilliant . . . Obsessive love has never been written so frighteningly." —Women's Day
"[A] slow-burn, sinister psychological thriller . . . Hall's depiction of stalker mentality and behavior is chilling. Perhaps most interesting is the examination of gender politics and how women are punished for sexual behavior in ways that men are not." —Library Journal

"Hall brings the unreliable narrator to new heights in this disturbing narrative . . . For fans of Nabokov's Lolita [and] Highsmith's Ripley tales." —Booklist
"Here's a change—a psychological thriller in which a man is the crazy one . . . Which is worse—an emotionally disturbed murderer or a woman with a fierce libido? Hall's U.S. debut is designed to show just how much trouble society has answering that question." —Kirkus Reviews

"Like Thompson's The Killer Inside Me, Nabokov's Lolita, or Highsmith's Ripley novels, Hall's Our Kind of Cruelty draws us into the twisted mind and far-fetched excuses of a killer, telling his own tale. The perfect unreliable narrator, gaslighting his way to anti-hero greatness, with a stunning conclusion that chills with its unadorned bitterness and terrifying plausibility." —Lit Hub
"A tense, intelligent thriller that kept me gripped and guessing until the last page—and thinking long after that." —Erin Kelly, author of He Said/She Said
"I tore through Our Kind of Cruelty—toxic love, obsession, and the unflinching unraveling of a mind. Scarily plausible and a great read." —Ali Land, author of Good Me Bad Me
"A propulsive and addictive study of the darkness of obsessive love. I was completely gripped from the first word to the last!" —Lisa Jewell, author of The Girls in the Garden
"Taut, fascinating . . . Be prepared for questions to linger in your head for a longtime afterward." —Julia Heaberlin, author of Playing Dead
"Love and desire turn into obsession. Denials and lies become disillusions. This combination turns deadly for Verity (V), her new husband, Angus, and her former lover, Mike. Beginning with a dangerous sex game and ending in a murder and subsequent trial, this psychological thriller gives today's headlines a gripping and frightening veracity." —Nancy Simpson-Brice, Book Vault
"Despite a rough start, Mike has made a good life for himself: he's a rising star at the firm where he works; he just bought a posh house in London; and he's in peak physical condition. The only thing missing is his ex-girlfriend, but if he can just prove his devotion to her, he's sure to win her back. Nothing is ever as simple as it seems, though, is it? Parents can betray you, lovers can lie to you, and violence can lurk underneath even the most placid exterior . . . Our Kind of Cruelty is a toxic and addictive book, a menacing psychological thriller that radiates with the cruelest of good intentions." —Lauren Peugh, Powell's Books
"Our Kind of Cruelty is a serious love story—or is it? Our Kind of Cruelty is a story of obsession—or is it one of manipulation by a strong character taking advantage of one who is severely damaged from childhood abuse? Is a narrator unreliable if he truly believes all he says? Our Kind of Cruelty is the ultimate psychological thriller which cleverly hides until the very end the fact that the entire book is a statement which has great relevance in current culture and a twist that I did not see coming." —Nancy McFarlane, Fiction Addiction