Wild Cards VIII: One-Eyed Jacks: Book One of the Rox Triad (Paperback)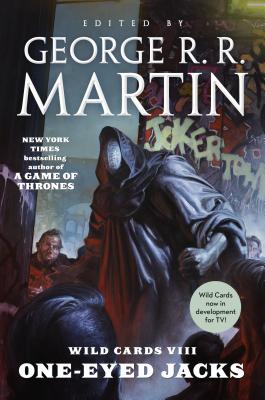 $31.99

Available from our Distributors - Usually arrives in-store in 2-7 days
Other Books in Series
This is book number 8 in the Wild Cards series.
Description
---
Soon to be a show on Hulu!

Rights to develop Wild Cards for TV have been acquired by Universal Cable Productions, the team that brought you The Magicians and Mr. Robot, with the co-editor of Wild Cards, Melinda Snodgrass as executive producer.

Perfect for current fans and new readers alike, One Eyed Jacks is a classic Wild Cards adventure, edited by #1 New York Times bestselling author George R. R. Martin, and the first book in the Rox Triad.

Something is stirring on Ellis Island, something strange and dangerous enough to subdue even the white-hot tensions between Wild Cards and normal humans. They call themselves the Jumpers: a vicious gang with the power to transport their minds into others' bodies, using them to commit acts of terror and violence, before abandoning them and leaving their victims to face the consequences.

The Jumpers cutthroat ambition to control the Wild Card community will pit aces, jokers, and humans at odds like never before.

One-Eyed Jacks features the writing talents of Walton Simons, Chris Claremont, Lewis Shiner, William F. Wu, Victor Milan, Stephen Leigh, Melinda M. Snodgrass, and John Jos. Miller, along with previously unpublished stories from Carrie Vaughn and Kevin Andrew Murphy.

The Wild Cards Universe
The Original Triad
#1 Wild Cards
#2 Aces High
#3 Jokers Wild

The Puppetman Quartet
#4: Aces Abroad
#5: Down and Dirty
#6: Ace in the Hole
#7: Dead Man's Hand

The Rox Triad
#8: One-Eyed Jacks
#9: Jokertown Shuffle
#10: Dealer's Choice

#11: Double Solitaire
#12: Turn of the Cards

The Card Sharks Triad
#13: Card Sharks
#14: Marked Cards
#15: Black Trump

#16: Deuces Down
#17: Death Draws Five

The Committee Triad
#18: Inside Straight
#19: Busted Flush
#20: Suicide Kings

The Fort Freak Triad
#21: Fort Freak
#22: Lowball
#23: High Stakes

The American Triad
#24: Mississippi Roll
#25: Low Chicago
#26: Texas Hold 'Em
About the Author
---
George R. R. Martin has been a full-time writer for over 25 years. He is the author of the acclaimed, internationally bestselling fantasy series A Song of Ice and Fire, which is the basis of HBO's popular Game of Thrones television series. Martin has won multiple science fiction awards, including 4 Hugos, 2 Nebulas, the Bram Stoker, the Locus Award, the World Fantasy Award, the Daedelus, the Balrog, and the Daikon (Japanese Hugo).

The Wild Cards Trust is the creator of the Wild Cards series.
Praise For…
---
Praise for the Wild Cards series

"Perhaps the most original and provocative of the shared worlds books." —Peter S. Beagle, author of The Last Unicorn

"Delicious...Everything I hoped for in a new Wild Cards book. The character interactions and plot twists have exactly the complexity, surprise, and unsentimental realism I'd expect out of a George R. R. Martin project." —Austin Grossman, author of Soon I Will be Invincible on Inside Straight

"This is a wild ride of good, blood-pumping fun that packs a surprisingly emotional punch for a book that looks on the surface like just another superhero adventure." — Publishers Weekly on High Stakes

"Emotionally powerful. Wild Cards deals up the variety of short fiction without losing the continuity of a novel."—The Seattle Times

"A delightfully imaginative speculation."—The Toronto Star

"Martin has assembled an impressive array of writers. . . . Progressing through the decades, Wild Cards keeps its momentum to the end." —Locus

"The shared-world series known as Wild Cards has had a long and illustrious history of contributors and achievements." —SciFi.com

"New readers and fans of the long-running series will both love the fast-paced plotting and the ever-expanding history of the Wild Card virus on this alternate Earth, where even the superheroes are human." —Shelf Awareness on Lowball

"Highly recommended." —SFRevu on Lowball