Full House: A Wild Cards Collection (Hardcover)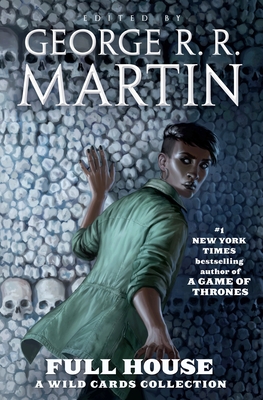 $31.99

Available from our Distributors - Usually arrives in-store in 2-7 days
Other Books in Series
This is book number 30 in the Wild Cards series.
Description
---
A new collection of Wild Cards stories, previously published on Tor.com and together in one volume for the first time!

In the aftermath of World War II, an alien virus struck Earth, endowing a handful of survivors with extraordinary powers. People with admirable abilities were called aces. Others became physically mutated and were labeled as jokers.

Every generation, the virus creates new aces and jokers. Every generation, there are those who use their powers in the service of humanity or for the purpose of evil.

Wild Cards is their story.

In hardcover for the first time, Full House brings together the Wild Cards stories that have been previously published on Tor.com, including works from:
Daniel Abraham
Cherie Priest
David D. Levine
Walter Jon Williams
Paul Cornell
Carrie Vaughn
Caroline Spector
Stephen Leigh
Melinda M. Snodgrass
And more!

"New readers and fans of the long-running series will both love the fast-paced plotting and the ever-expanding history of the Wild Card virus on this alternate Earth, where even the superheroes are human." —Shelf Awareness
About the Author
---
George R. R. Martin has been a full-time writer for over 25 years. He is the author of the acclaimed, internationally bestselling fantasy series A Song of Ice and Fire, which is the basis of HBO's popular Game of Thrones television series. Martin has won multiple science fiction awards, including 4 Hugos, 2 Nebulas, the Bram Stoker, the Locus Award, the World Fantasy Award, the Daedelus, the Balrog, and the Daikon (Japanese Hugo).
Praise For…
---
Praise for the Wild Cards series

"A delightfully imaginative speculation."—The Toronto Star

"Progressing through the decades, Wild Cards keeps its momentum to the end." —Locus

"The shared-world series known as Wild Cards has had a long and illustrious history of contributors and achievements." —SciFi.com

"Perhaps the most original and provocative of the shared worlds books." —Peter S. Beagle, author of The Last Unicorn

"New readers and fans of the long-running series will both love the fast-paced plotting and the ever-expanding history of the Wild Card virus on this alternate Earth, where even the superheroes are human." —Shelf Awareness on Lowball

"Highly recommended." —SFRevu on Lowball

"Upbeat....Every chapter is solidly entertaining. It's a treat for any fan of superhero stories." —Publishers Weekly on Low Chicago

"A genre-hopping, time-jumping, crowd-pleasing chain novel under the curation of old master Martin, he of Game of Thrones fame."—Kirkus Reviews on Low Chicago