Three Kings: A Wild Cards Mosaic Novel (Book Two of the British Arc) (Paperback)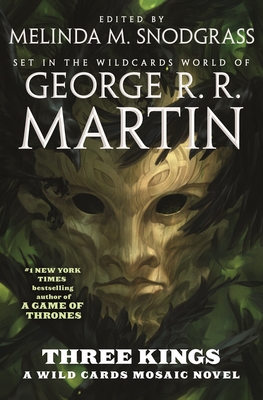 Other Books in Series
This is book number 28 in the Wild Cards series.
Description
---
Three Kings is the next anthology in George R. R. Martin's ongoing Wild Cards alternate-history series.

In the aftermath of World War II, the Earth's population was devastated by an alien virus. Those who survived were changed forever. Some, known as jokers, were cursed with bizarre mental and physical mutations; others, granted superhuman abilities, became the lucky few known as aces.

Queen Margaret, who came to the English throne after the death of her sister Elizabeth, now lies on her death-bed. Summoning the joker ace Alan Turing, she urges him to seek the true heir: Elizabeth's lost son. He was rumored to have died as a baby but, having been born a joker, was sent into hiding. Margaret dies and her elder son Henry becomes king and at once declares he wants to make England an "Anglo-Saxon country" and suggests jokers be sent "to the moon." Dangerous tensions begin to tear the country apart. The Twisted Fists—an organization of jokers led by the Green Man—are becoming more militant. And Babh, goddess of war, sees opportunities to sow strife and reap blood…
About the Author
---
George R. R. Martin has been a full-time writer for over 25 years. He is the author of the acclaimed, internationally bestselling fantasy series A Song of Ice and Fire, which is the basis of HBO's popular Game of Thrones television series. Martin has won multiple science fiction awards, including 4 Hugos, 2 Nebulas, the Bram Stoker, the Locus Award, the World Fantasy Award, the Daedelus, the Balrog, and the Daikon (Japanese Hugo).
Praise For…
---
Praise for the Wild Cards series

"Perhaps the most original and provocative of the shared worlds books." —Peter S. Beagle, author of The Last Unicorn

"Delicious...Everything I hoped for in a new Wild Cards book. The character interactions and plot twists have exactly the complexity, surprise, and unsentimental realism I'd expect out of a George R. R. Martin project." —Austin Grossman, author of Soon I Will be Invincible on Inside Straight

"This is a wild ride of good, blood-pumping fun that packs a surprisingly emotional punch for a book that looks on the surface like just another superhero adventure." — Publishers Weekly on High Stakes

"Emotionally powerful. Wild Cards deals up the variety of short fiction without losing the continuity of a novel."—The Seattle Times

"A delightfully imaginative speculation."—The Toronto Star

"Longtime fans will enjoy surprise appearances by previous notables, sometimes in drastically altered circumstances, and this entry also works well as a standalone. It's a treat for any fan of superhero stories." — Publishers Weekly on Low Chicago

"The shared-world series known as Wild Cards has had a long and illustrious history of contributors and achievements." —SciFi.com

"New readers and fans of the long-running series will both love the fast-paced plotting and the ever-expanding history of the Wild Card virus on this alternate Earth, where even the superheroes are human." —Shelf Awareness on Lowball

"Highly recommended." — SFRevu on Lowball