Paradoxical Virtue: Reinhold Niebuhr and the Virtue Tradition (Routledge New Critical Thinking in Religion) (Hardcover)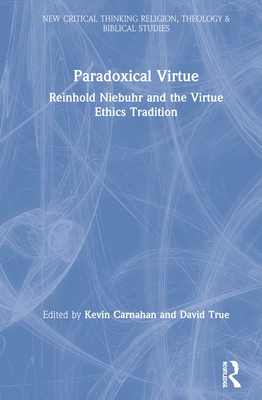 $184.00
Available from our Distributors - Usually arrives in-store in 2-7 days
(This book cannot be returned.)
Description
---
After the re-emergence of the tradition of virtue ethics in the early 1980s Reinhold Niebuhr has often served as a foil for authors who locate themselves in that tradition. However, this exercise has often proved controversial. This collection of essays continues this work, across a wide range of subjects, with the aim of avoiding some of the polemics that have previously accompanied it.  
The central thesis of this book is that putting the work of Reinhold Niebuhr and Christian realism in dialogue with contemporary virtue theory is a profitable undertaking. An introductory essay argues against locating Niebuhr as a consequentialist and in favour of thinking of his work in terms of a dispositional ethics Contributors take different positions on whether Niebuhr's dispositional ethics should be considered a form of virtue ethics or an alternative to virtue ethics. Several of the articles relate Niebuhr and Christian realism to particular virtues. Throughout there is an appreciation of the ways in which any Niebuhrian approach to dispositional ethics or virtue must be shaped by a sense of tragedy, paradox, or irony. The most moral disposition will be one which includes doubts about its own virtue.
This volume allows for a repositioning of Niebuhr in the context of contemporary moral theory as well as a rereading of the tradition of virtue ethics in the light of a distinctly Protestant, Christian realist and paradoxical view of virtue. As a result, it will be of great interest to scholars of Niebuhr and Christian Ethics and scholars working in Moral Philosophy and the Philosophy of Religion more generally.
About the Author
---
Kevin Carnahan is Professor of Philosophy and Religion at the Central Methodist University, USA. He is Co-editor of the Journal of the Society of Christian Ethics; former President of the Niebuhr Society; author of Reinhold Niebuhr and Paul Ramsey (2010), From Presumption to Prudence in Just-War Rationality (2017), several scholarly articles, and many popular and editorial pieces. David True is Associate Professor of Religion at Wilson College, USA. He is Co-editor of Political Theology and is author of articles and book chapters on fundamentalism, just war theory, Reinhold Niebuhr, and Martin Luther King, Jr. He has also written for venues such as Religion Dispatches, the Christian Science Monitor, Politico, and Political Theology Today. In addition, he is the Director of Wilson College's Orr Forum on Religion and The Wilson College Common Hour.