Free Market Revolution: How Ayn Rand's Ideas Can End Big Government (Paperback)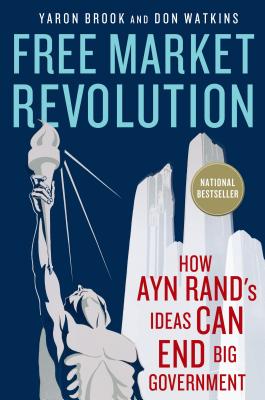 $22.99

Available from our Distributors - Usually arrives in-store in 2-7 days
Description
---
Already a National Bestseller, in Free Market Revolution, the keepers of Ayn Rand's legacy argue that the answer to our current economic woes lies not in "trickle-down government" but in Rand's inspiring philosophy of capitalism and self-interest—a philosophy that more and more people are turning to for answers. Here, Brook and Watkins explain how her ideas can solve a host of political and economic ills, including the debt crisis, looming inflation, anti-business regulation, and the swelling entitlement state. And most important, they show how Rand's principles allow defenders of the free market to seize the moral high ground in the fight to limit government. This is a fresh and urgent look at the ideas of one of the most controversial figures in modern history—ideas that may prove the only hope for the future.
About the Author
---
Yaron Brook is Executive Director of the Ayn Rand Institute. He is the co-author of Free Market Revolution. An internationally sought-after speaker, he has appeared on The O'Reilly Factor, The Glenn Beck Show, On the Money, and Closing Bell, among others. His writings have appeared in the Wall Street Journal, USA Today, Investor's Business Daily, and CNN.com, and he is co-author with Don Watkins of a popular column on business and capitalism at Forbes.com.

Don Watkins is a fellow at the Ayn Rand Institute and the co-writer with Yaron Brook of Free Market Revolution as well as a column on business and capitalism at Forbes.com. He appears regularly on radio and TV, and his op-eds have appeared in such venues as Investor's Business Daily, USA Today, FoxNews.com, and Forbes.
Praise For…
---
"While you might not agree with Yaron Brook and Don Watkins, it is all but certain that you will learn from them. I certainly did, and I have a newfound appreciation for free market ideals." —The Washington Times

"Very good and very informative… the beauty of Free Market Revolution is that it reminds readers that using the government to take care of your needs is no different than going next door to steal from your neighbor." —Forbes.com

"A joy to read. Even as it merges hefty philosophical arguments, detailed discussions of key economic concepts, and numerous historical examples, its light and breezy prose enables quick reading...Free Market Revolution could not have come at a better time." —The Objective Standard

"An intriguing gauntlet and a challenge to conventional political wisdom and philosophical underpinnings… This "revolution" will inflame many and embolden others, but that is not all bad…Recommended." —Choice

"Free Market Revolution will raise the ire of every statist, socialist and crony capitalist. Rand understood - as do the authors of this all-too-timely book - that free markets are, indeed, moral while Big Government is manifestly not." —Steve Forbes

"A powerful and unapologetic case in support of capitalism. For those who think more government will solve our nation's problems, Free Market Revolution will open your eyes. For those who can already see the light, it will sharpen your vision." —Peter Schiff, CEO of Euro Pacific Capital, Inc., host of the Peter Schiff Show on www.SchiffRadio.com, and author of The Real Crash: America's Coming Bankruptcy—How to Save Yourself and Your Country

"Free Market Revolution is must-reading for an age in which the government seems to be treating Atlas Shrugged not as a warning, but as a how-to manual." —Glenn Reynolds,

"Free Market Revolution is a potential game-changer. Brook and Watkins dismantle the myth that free markets are responsible for today's ills, and they teach us how to take the moral high ground in the fight against Big Government. If there are any Occupiers left, this book should make them lay down their signs in surrender. Anyone who wants to understand why we have strayed so far from the Founders' ideals, and how we can find our way back, should read this book." —Mallory Factor, Founder, Mallory Factor, Inc., and Professor of International Politics at The Citadel

"This book is a must read for anyone concerned about the demonization of capitalism and deification of collectivism. Yaron Brook and Don Watkins meld philosophy with practicality in their cogent analysis of how Ayn Rand's moral defense of capitalism can bring down the limitless growth of government and restore its original, intended purpose--protection of individual rights. Changing the trajectory of the country calls for a long and intense fight with very steep odds against victory. But the concept of the Free Market Revolution, celebrating the individual pursuit of rational, long-term self interest as a virtue, provides the arsenal for the assault. And Brook and Watkins give a battle plan of surefire approaches to limit, and then eliminate, even such massive incursions as the government's takeover of healthcare." —Jim M. Kilts, Former CEO of Gillette Company

"The most important issue in our society today is the morality of capitalism. Free Market Revolution lays bare how capitalism is the only economic system consistent with man's nature as a thinking being who must act in his long term rational self-interest to survive and prosper. This is an important book which integrates philosophical ideas with their real world consequences." —John A. Allison, Retired Chairman & CEO, BB&T Corporation

"Free Market Revolution: How Ayn Rand's Ideas Can End Big Government is very welcomed indeed. With clarity and courage Brook and Watkins present?the basic teachings of free market economics, and place them within the?context of Ayn Rand's broader moral-philosophic system. As the problems?with government intervention into the free market become more and more?evident to larger segments of the population, Ayn Rand's writing, especially her epic Atlas Shrugged, takes on a new life for a new generation." —Peter J. Boettke, Professor of Economics, George Mason University